With national parks open again, it's time to soak in its glory and grandeur, specifically the Grand Canyon National Park of Arizona. Though there are fewer restrictions in 2021 than a year ago, the National Park Service ensures that all national parks are safe for the public to visit.
If you are reading this, it either means you have a first-hand experience of the bliss and beauty of a dory river trip.
Or it may mean you have never tried it before, but have heard so much about dory trips, that you are intrigued to learn more.
Whatever the reason, we have you covered here with everything you need to know about going on an adventure dory trip.
The Grand Canyon
One of nature's greatest marvels is the Grand Canyon, one of the oldest rock formations created by erosion millions of years ago. The Grand Canyon lies in the northwest corner of Arizona, closely bordering Nevada and Utah. Most of it lies within the Grand Canyon National Park, which the National Park Services manages.
The mile-deep Colorado River that flows through the Canyon divides the Grand Canyon into the South Rim and North Rim.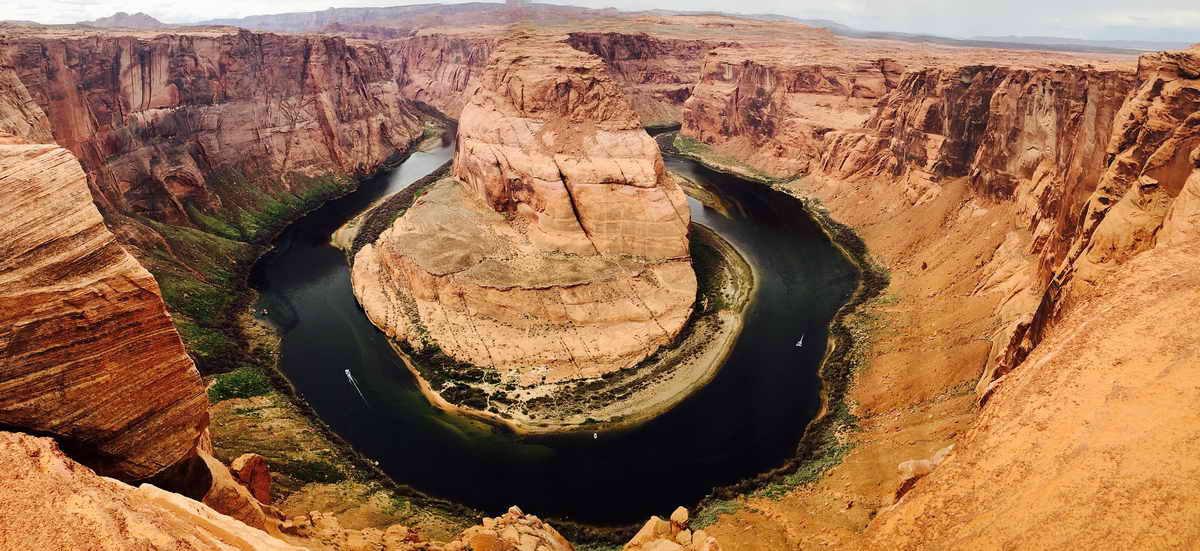 The Grand Canyon National Park South Rim is located on the Arizona side of the Canyon and is open all year. It can get pretty busy during spring break and summer. As it captures 90% of the park's visitors, it's better to make early dory trip bookings.
The North Rim is on the Utah side of the Grand Canyon. It is more remote and harder to get, so it has a short season and receives only 10% of the park's visitors. Some visitors prefer taking a hike for a few miles into a canyon. However, not everyone who goes on a hike makes it to the river at the bottom. Only a tiny percentage actually reach it.
Most first-time visitors would prefer exploring the South Rim for its numerous campgrounds, eating and loading options. Besides, it is closer to California, LA. However, the North Rim is always a great place to start your adventures if you have already visited the South Rim and want to be free from the crowds.
Your Dory raft ride
Though you can always go on a hike while at national parks, there's no doubt that one of the best ways to explore the Grand Canyon is through river trips. A dory boat trip through the Colorado River should be on your bucket list for someone looking for a spectacular boating experience!
A typical Grand Canyon river dory journey covers 277 miles of water and cruises through 200 white water rapids. Dory trips have always given people of any age the experience of traversing through hidden waterfalls, secret canyons, enjoying a hike, eating hot cooked food around campfires, and even getting to sleep under the open sky and stars at night.
What's more, age is not a factor for these expeditions. Passengers of all ages, both young and old, enjoy taking in the spectacular sights and the adventure the trip offers.
What are Grand Canyon dories?
Grand Canyon dories offer a unique, exciting, and more robust alternative incomparable to the experience of floating on inflatable rafts.
Grand Canyon dories are small, traditional, and elegant rigid boats, measuring 16'-23' from stern to bow, and run rivers much quicker than rafts or boats. Each Grand Canyon dory is hand-sculpted from composite fiberglass and enclosed cell foam molded to a wood hull.
It's even ultra-bounced to prevent warpage.
Though lightweight, the dory is spacious enough to hold four people on its passenger benches along with one guide. It can also carry a massive 500 pounds of gear under hatches.
The Grand Canyon dory has a flat bottom, sharp bows, six hatches and is built strong with hardwood or wrought aluminum rails with high trim sides.
While its wooden hulls are susceptible to rock damage when compared to rubber rafts, they are much more maneuverable. This maneuverability helps a skilled boatman avoid obstacles while riding the river in a dory than a raft. It's the guide that is 100% responsible for its navigation.
A dory trip isn't about the speed of the journey. It is a must in every adventure seeker's bucket list because of the intimate experience it offers. The stunning scenery found in the backdrop makes the ride even more mesmerizing.
History of the dory
The dory boat brings with it a rich history worth talking about.
According to history, it was pretty evident that inflatable boats paved the way for whitewater recreation by the mid-1950s. They were ideal in so many ways and popular with boatmen. They were easy to store, and transport could carry heavy payloads and seemed to ignore jagged walls and huge rocks practically.
Most importantly, the US Military dumping excess rubber from overseas war efforts reduced its manufacturing costs.
Things soon took a turn, which led to the birth of dories. It was all thanks to self-taught Californian environmentalist Martin Litton, who had his first river trip in the mid-1950s.
Martin Litton had learned the trade from P.T.Reilly, who ran a fiberglass variation of the wooden Cataract boat Norman Nevills had introduced in the 1930s. However, Reilly soon grew disgusted with the way his ships grew leaky, which made him decide to sink them and retire into the middle of the Grand Canyon.
So Reilly ended up saying now when Martin Litton called him to run a publicity trip fighting against the threat to Grand Canyon dams in 1962.
While Litton could have easily bought a few rafts to run the trip, he had other plans.
He discovered that wooden Oregon drift boats with high brows and fired sides that he had rowed a year earlier on the McKenzie River were just right to tackle Grand Canyon's rapids. And as they did well, Martin decided to call them dories as they closely resembled New England cod fishing dories.
The birth of the commercial Grand Canyon dory
Both Martin Litton and Reilley agreed that the dories were the finest whitewater boats they had ever rowed. While Reilley retired from river running in two years, Litton doubled his efforts on the ships. He soon had a small commercial operation giving tourists the experience of rafting through Grand Canyon up and running by 1970.
The operation grew so popular that though Litton sold his company in 1987, commercial tour companies caught up with the trend and soon added these great boats to their fleets. There was a rising demand for dories by passengers, and most importantly, boatmen just loved the experience of riding dory trips to the Grand Canyon in Arizona.
What is a dory trip?
No other boat can traverse America's wild water landscape as capably or elegantly as the dory. They are no ordinary boats. These boats have had a soulful connection with the Colorado River and western adventure traditions since history.
Besides, you can keep all your gear safely stowed away, easily accessible underneath the hatches, so that the deck is safe and empty while you go blasting through the waves.
To most people, dory river trips aren't just about the scenery, exciting rapid rides, spectacular hikes, or the camping life in Grand Canyon National Park. The rare photo opportunities and enjoying some great outdoor cooking and sleeping under clear skies and stars make the trip even more memorable.
So many families experience huge emotional ties and feelings during the time spent on a dory trip. They get to know one another better and learn to relax and enjoy nature during the time spent on the trip. Many have even been able to overcome some personal physical hurdles and end up having so many stories to tell about the journey on returning home.
The highlight of the excursion to many is the opportunity to explore visiting spots like Redwall Cavern, Deer Creek, and Lava Falls. In addition to it, many enjoy that they get time to revive memories, tell stories around campfires, and even get to see bighorn sheep in front of their eyes.
So aside from the so many beautiful spots that the dory boats take you to and the beautiful experiences you have, dories are just plain fun and worth the experience.
Your choice of Dory Expeditions
We have been conducting Colorado river rafting rides through the Grand Canyon for some time, and our guides know the waters like the back of our hands. Our Grand Canyon dory trips are no ordinary sightseeing tours.
They have been a specialty for years that people of any age enjoy. Our guides practically leave the world behind while taking you on adventures to some of the lesser-known side canyons in Arizona and spectacular spots like Deer Creek, Redwall Cavern, and Lava Falls!
We are very flexible with our rafting expeditions and can customize your trip as per your preferences. You get to choose the trip length ranging from half to one-day packages to 12-18 days packages. We offer a choice of four expeditions- Full Canyon, Upper Canyon, Lower Canyon, and Western Canyon and let you choose between different types of boats-motorized, oar, paddle, dory, or hybrid rafts.
Most dory river trips start at Lee's Ferry at the national park's northeast boundary, where our guides can quickly set the boats into the river.
The Full Grand Canyon Expedition
On a Full Grand Canyon expedition, the boatman takes you from Marble Canyon's Lee's Ferry to Diamond Creek or Pearce Ferry, Lake Mead. You get to encounter as many as 42 5+rated major rapid systems while rafting between these points.
You also pass numerous spectacular sites like Whitmore Wash, Horseshoe Bend, Pipe Creek, Phantom Ranch, and Cataract Canyon. The water is high in Cataract Canyon, with rapids rivaling Grand Canyon's hugest rapids.
Dories aren't great only for adventures on their stretch of the Colorado River. They also make the personal boat if you want to float through the rock paradise in style and comfort. No matter when you go on your journey, the Big Drops are always exciting from a dory.
Our tour guides set up camp in a pre-selected camping site every afternoon, and once you have your shore gear off the boats, start cooking a delicious meal. The mornings begin early with the crew having a hot cup of coffee and a plate of sizzling bacon and eggs ready for you. It's our way of ensuring you get a headstart to take on the many adventures the day has to offer.
You will enjoy relaxing as the boat floats down most parts of the Colorado River while your guide tells stories and gives a vivid description of the Grand Canyon's natural and artificial wonders. Depending on your trip, your raft pulls up on Grand Canyon banks at river mile 188 (Lee's Ferry to Whitmore Wash), river mile 255, or river mile 280.
The Upper Grand Canyon Expedition
This expedition starts at Lee's Ferry, and you eventually exit the Colorado River at Phantom Ranch after 88 miles. You then have to hike up the Bright Angel Trail a few miles to reach the South Rim, accessible by car. The Upper Canyon boasts of some of the region's most formidable whitewater rapids like House Rock and Zoroaster rapids.
Other fascinating highlights you get to see are the spellbinding Kaibab and Toroweap rock formations famous in Arizona, the massive Redwall Cavern, and the Little Colorado River bright blue water confluence. You also get to enjoy some wildlife spotting and ancient geological site inspections.
The Lower Canyon Experience
This river trip starts at the end of Upper Canyon trips, with a challenging hike down Bright Angel Trail. We recommend doing a few trial hikes at home before hiking here as the descent is quite steep. It's also better to bring some snacks and wear appropriate footwear. We have outfitters who will transport your baggage if you aren't confident about trekking your gear down.
A typical day on your Grand Canyon dory trip from Phantom Ranch starts with taking in some stunning canyon scenery and some of the section's rated whitewater rafting rapids. You then get to explore some of the incredible natural attractions of Arizona like Granite Narrows, Lava Falls, Deer Creek Falls, Elves Chasm, and Matkatamiba Canyon. The nights are usually spent in a camp under the sky and stars, with the crew cooking hot food for you.
Depending on your budget and preferences, you can exit the expeditions in one of three ways. You can book an adventure helicopter ride from Whitmore Wash, opt to pull in near Diamond Creek Road, or take a jet boat from Separation Canyon.
An adventure helicopter ride is well worth it.
It lets you enjoy the mesmerizing beauty of the canyons in Arizona from above.
West Canyon Experience
This West Grand Canyon adventures start with a jaw-dropping helicopter ride to Whitmore Wash, where you settle in your raft and float to the country's largest reservoir, Lake Mead. This is where a jetboat transports you to a vehicle-accessible-take-out point to start your adventures.
And if you opt to charter a trip for a West Canyon experience, your journey would also include a scenic flight from Las Vegas to Bar 10 Ranch, where you get to see the canyons from above. There's also ample opportunity to take in a few volleyball games, skeet shooting, horseback riding, ATV driving, or Grand Canyon multisport for someone who loves outdoor activities.
How do I plan a Grand Canyon National River Expedition?
You would have to remember five essential things while selecting a Grand Canyon dory trip: cost, boat type, route, time of year, and the guide company. Of course, you may also have other questions which our guides are always on hand to answer.
Costs
One of the first questions that would crop to your mind while planning a Grand Canyon river trip is "How much does a Grand Canyon rafting trip cost?". There is no fixed price, and you may find different tour companies charging different rates.
The Grand Canyon dory trip cost depends on various factors like the number of days, the trip type, and the raft type you select. Whatever your choice may be, most people who embark on these journeys vouch that it's worth every cent because the adventure is a once-in-a-lifetime event. It's well worth the time, supplies, and logistics that the tour company puts into organizing these trips.
After spending so much on the trip, it's always better to enjoy the journey. And as most people raft the Grand Canyon only once in a lifetime, use the time to drift off, wander away, and ponder on your life.
Tour guide company
There are multiple tour guide companies to choose from in Arizona. It's always better to go with a company with good reviews. Look for companies where people shout out about the incredible experience they had on the trip.
Look for a renowned company like Advantage Grand Canyon, one of the best resources for all Grand Canyon rafting trip adventures.
Boat type
You have various boat options to choose from, depending on how you would like to tackle the Colorado River. There are a paddle, oar, dory and motor rafts, and hybrid trips. However, if you want an incredible experience while riding through the whitewater rapids, then it's a dory raft you need indeed!
Time of the year
Another common question people ask to plan adventure Grand Canyon dory trips is when would the best time to plan a trip to the canyons is. The best time of the year to go Colorado River dory rafting is between April and October.
While the temperature tends to fluctuate through the year, this is when the clear skies and high temperatures offer a welcome respite against the 50-degree Colorado River water temperature. Besides, the weather is relatively milder in April and September/October, making adventures and a hike much more comfortable.
About us
We at Advantage Grand Canyon are proud of our high crew to passengers ratio in our dory raft trips, offering unmatched top-quality service. Our river guide strives to make the passengers' journey as memorable as possible by floating at a relaxed and slower pace.
It is our way of giving justice to the Arizona Colorado River experience and the spellbinding beauty of the surrounding environment. Our professional river guides and crew will take care of the rowing and every other matter and let you focus solely on taking in the mesmerizing scenery of any one of our fantastic Grand Canyon adventures.
We are proud to be an authorized concessionaire of the National Park Service.