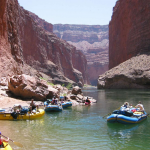 Whenever we talk about Arizona whitewater rafting trips, you will always be thinking about a big rubber boat with several people all working together as they maneuver their craft against hitting any of the boulders that are even larger than a two-story house. But, did you know that there are also stretches of the river that are actually calmer than a serene placid lake in summer? This is the beauty of whitewater river and rapids systems the world over. You can never really know whether the next bend will be still smooth gliding on your river raft or you will be facing the thrill of a lifetime. And this is why it is always advisable to be guided by expert river rafting professionals such as our famed river skippers at Advantage Grand Canyon.
The Arizona Whitewater Rivers
When you talk about Arizona, the first thing that comes to mind is the majestic Grand Canyon. People seem to be lost in the untouched beauty of the region that it has graced the pages of many geologic and photography magazines around the world. There is such a certain touch of magic whenever the Grand Canyon is the buzz of the town. However, the Colorado River of the Grand Canyon is not the only source of great whitewater rafting adventures in Arizona. The Black River, Christopher Creek, Eagle Creek, East Verde, Ellison Creek, Oak Creek, Paria River, Salome Creek, Tonto Creek, and the Virgin River are all Class IV to Class V rivers where only the bravest of extreme river rafters dare go. Of course, there are other river systems in Arizona that are nourished by the mighty Colorado River which can be excellent for beginners and amateur river rafters. With a classification of I to III, these offer a certain degree of adventure for the brave.
Whitewater Rafting Trips to Enjoy Arizona
Since the granddaddy of these river systems is the Grand Canyon portion of the mighty Colorado, enjoying Arizona means enjoying the Grand Canyon. Advantage Grand Canyon is one of the many outfitters in the Arizona area that offer a variety of whitewater river rafting trips. We provide especially designed full canyon trips or a combination of whitewater rafting and hiking expeditions to suit your very requirements. Either can be taken on a choice of motorized river raft which is generally faster and is thus highly recommended for those that do not have the luxury of time to really immerse themselves in the beauty of the Colorado River and the Grand Canyon ecosystem.
How to Choose Your Trip?
So you have decided to go on a whitewater rafting trip. You're not alone. In fact, whitewater rafting is one of the items on the bucket list of millions of people all over the world. It is not only for the extreme outdoorsman but also for those with very little outdoor experience who wish to ride along the world's greatest rivers on a whitewater rafting trip. But how to choose your trip? Here are some tips to help you deciding what type of rafting trip you want and things to consider during your trip.
Learn the Different Classes of Whitewater Rivers
The very first thing you have to do is to acquaint yourself with the different classes of whitewater river systems. Keep in mind that you don't have to be concerned about your experience level if rafting on a commercial Grand Canyon trip as the expert guides are navigating the rapids. Additionally the Colorado River in Grand Canyon is a 1-10 rating scale as opposed to 1 - IV on all other rivers. Calm water with very negligible to zero obstacles is often rated as Class I. As you go up the scale, the water obstacles grow significantly greater which can include sheer vertical drops, several meter-high whitewater waves, boulders the size of a house, and whirlpools, among others. Class IV and V are only for the experienced professionals and extreme athletes. Class VI rapids and whitewater river systems are off-limits even to the world's best extreme athletes. If you're just beginning, make sure to try whitewater rafting in Class II or III rapids first.
Consider How Many Days You Want To Spend Rafting
Rafting trips in the Grand Canyon typically range in as short as a day to as long as 18 days. Each of these trips are primarily designed for the specific requirements of visitors. For instance, Advantage Grand Canyon typically has 4 different major trip classifications based on the number of days that clients want to spend in the river. You can choose an ultra-short day raft trip, a short 3 to 5 day trip, a moderately long 6 to 9 day rafting trip, or even a lengthy 12 to 18 day trip. Each of these trips will again have a variety of selections often depending on which part of the canyon you would like to explore as well as the type of river vessel you are going to use. While everyone's schedules and travel windows are different, there are options to accommodate every traveler's needs. An important thing to remember is that the shorter the trip, the less of the Grand Canyon you will be able to see and experience. The longer the trip, the more attractions rapids and magic you will experience. Some, with unlimited vacation time, get to experience life in this paradise and the incredible advantages of being away from civilization for up to 3 weeks at a time.
Determine Which Part of the Canyon You Want to Explore
As already explained above, you will also need to consider what part of the Grand Canyon you want to explore. Typically the canyon is divided into an Upper Canyon and a Lower Canyon as well as a West Canyon section which is, in essence, an extension of a lower canyon trip. Each of these canyon trips provides a variety of experiences complete with a hike and whitewater river rafting as part of every trip option. Keep in mind that Upper canyon trips require a strenuous 9.5 mile hike up and out of the canyon while Lower canyon trips require the same Bright Angel Trail hike but descending into the canyon to begin the raft trip. Full Canyon and Western Canyon trips avoid this strenuous hike.
Decide Whether to Take a Motorized Trip or Non-Motorized
There are two basic types of transportation along the river in the Grand Canyon: motorized or non-motorized. If you have a shorter travel window, wish cover more ground in less time, more comfortable seating options and often more time off the raft, opt for the motorized trips. If you want a more intimate experience with the water, more one on one time with your guide, don't mind traveling at the speed of the river (3-4 mph), then a non-motorized trip is ideal for you. These come in many different raft types: Oar, Paddle, Hybrid and Dory. Oar rafts are powered by the guide who sits in the middle of the vessel and rows down the river much like someone would if rowing on a lake for fishing. Paddle rafts consist of 6-8 passengers sitting along the edge of the raft with a single paddle in hand, leaning over the edge of the raft and digging into the water in order to propel the raft forward. The guide sits in the back and commands/guides the raft down the river. This is a by far the most active and demanding raft type which is certainly not for everyone due to the nature of this demanding trip type. Hybrid is a combination of Oar rafts and a Paddle raft. This option gives the passenger an option to either sit back and enjoy the ride in an oar raft or be more hands on in a paddle raft. Dory boats are also powered by the guide just like Oar rafts however the hard shell gives for a slightly more bumpy ride as it reacts quicker and maneuvers faster then the inflatable oar raft.
Always Wear the Correct Apparel and Gear
Make sure to wear the appropriate apparel and gear. Avoid wearing cotton fabric apparel as much as possible when you go in the river, keep this sort of apparel for evaporative cooling when on a hot hike. Although a swimsuit might be good for the beach, it usually is a good idea to have good rain gear protecting you from the cold river water temperature while on river. Additionally, make sure you wear non-slip shoes and that your life jacket is on tight!
Always Listen to Your River Guide
Whitewater outfitters always put the safety of whitewater rafters above all else. As such, you always want to listen to your river guide because they have a wealth of knowledge they can share. They know the terrain including wildlife around the whitewater river system. They know the dangerous and highly hazardous areas and as such will advise you on what and what not to do. And if you do choose the Grand Canyon for your whitewater rafting adventures, you can count on Advantage Grand Canyon to hook you up with the commercial outfitter best suited for your needs.
Always Observe Basic Safety Rules
Whitewater rafting river guides will explain the rules of the river both on and off the raft but it is your responsibility to practice good reasoning while on a Colorado river trip. Make sure that your life vest is synched tightly around you at all times when on the raft and that you're following the rules of the guides at all times. Make sure to also disclose any medical conditions or dietary restrictions prior to starting your whitewater raft adventure.
Ready For The Adventure?
The Grand Canyon offers a lot of fascinating things to do. But you need to plan your rafting trip very well to get the most out of your adventures. Our team of professional river navigators and guides are experts in giving you the best whitewater river rafting trip you will ever have. Be it a full canyon course or just a section of the entire length of the Grand Canyon Colorado River system, we will be taking you to some of the most electrifying adventures you will ever have. Just give us a few days of your time and we shall show you the raw beauty of the Grand Canyon floor as seen from the almost 300-mile stretch of the Colorado. We have been at the forefront of Arizona whitewater river rafting trips for a long time now. Let us make your dreams of a fun-filled whitewater rafting adventure a reality!