Walking at Camp
This may seem like a no brainer, but most accidents tend to happen at camp with people not using flashlights at night or walking barefoot which is a hazard. Always wear sandals to protect your toes/feet from hidden rocks, as well as for traction when peeing in the river.
Why You Should Go Grand Canyon Camping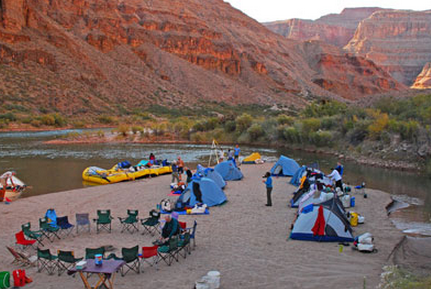 There are thousands of great camping areas across the world. America has been hailed as one of the best places to go camping due to its very large range of different environments. Furthermore, there has been a long history of camping in America, ever since the first settlement of the country. Hence, one of the best places to camp in whole America is said to be the Grand Canyon. Of course, it's easy to see why this is the case. So here is why you should consider going Grand Canyon camping and some tips to get prepared.
The Grand Canyon is truly a testament to the beauty of nature. Furthermore, the canyon just shows you how complex and intricate certain natural landscapes can be. Indeed, the canyon is just as much complex as it is vast and beautiful. Hence, such a vast and ever-changing area is a great place for someone to have the best camping trip of their life. That's why there are lots of opportunities to go camping in the Grand Canyon. Many avid campers travel from other countries come to the Grand Canyon to purely experience the amazing camping it offers.
Due to the fact that the Grand Canyon is a sacred area to the Native Americans, and is also protected, the camping areas are tightly controlled. With that being said, this does not make the camping experience in the Canyon any less exhilarating and amazing. There are many areas that have been approved by the Native American council to be allowed for camping by tourists. Lots of these areas have great views of the Canyon and sport lots of great hiking opportunities. However, it's important to note that camping in the Grand Canyon is a very high demanding activity. This means that you will most certainly won't be able to rock up to the Canyon and be able to find a camping spot. Reservations are absolutely necessary if you want to go and get a camping spot in the world famous camping venue. The more time you leave between the day you want to go camping and making the reservation the better. You really want to increase the chances of being allowed in, so make sure to make a reservation as soon as you decide to go camping in the area.
Get A Permit For Your Grand Canyon Camping Trip
Camping Grand Canyon is managed through a permit system. This means that when you make a reservation to go camping in the Canyon, you are essentially reserving for yourself a permit to go and be able to stay at the specific camping ground of your choice. The cost of a permit is usually a lot more expensive than other camping grounds and includes lots of extra fees. However, camping in, perhaps the best camping area in the world, is well worth the price you have to pay. Therefore, you should see why it is absolutely essential for anyone interested in going camping in the Grand Canyon. The area is truly the greatest place to go camping. It gives you a whole new perspective on just how amazing the Canyon is. While you're camping, you can also book an exciting rafting trip with one of our 15 outfitters!