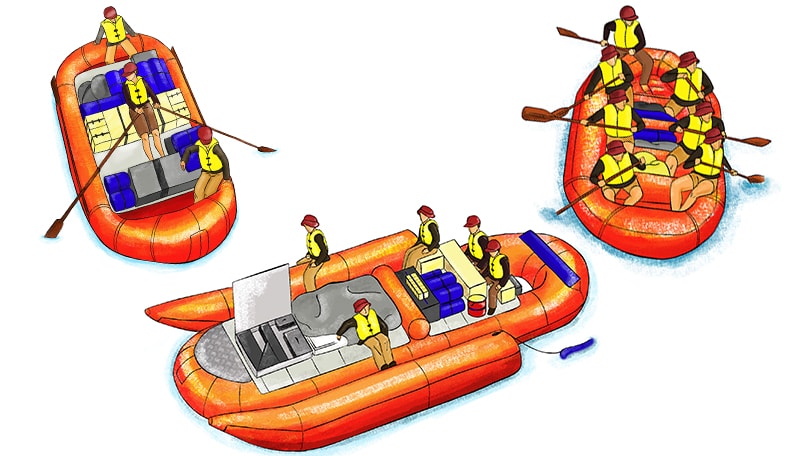 Rafting in the Grand Canyon is generally divided into two, namely motor and non-motor rafting vessels. The latter is further divided into three main categories which are the paddle, oar and dory. The type of raft may vary dependent on the needs, time allowances or constraints and ability to hike into or out of the Grand Canyon if need be. From the age of the passengers up to the level of adventure you are craving for, you may choose between numerous models of rafts as well as routes.
Motor Rafting with motorized rafts, vacationers and/or rafting enthusiasts will be able to travel faster throughout the routes offered in Grand Canyon. One advantage of this motorized raft choice is that passengers can maximize the amount of attractions, river miles traveled and off raft hiking opportunities by seeing virtually twice as much in a day compared to non-motor paddle, dory or oar raft trip options. Motor rafts allow rafters the ability to sit back in comfortable lower back supported seating positions, and enjoy the views and exciting rapids until the next stop for attractions.
A typical motorized raft can load around 12-14 people including the guides and the raft operator. A raft like this may move up to 9 mph depending on the water current. The minimum age of a passenger required is 8 years old. Rapids are equally as exciting on motor rafts as they are on paddle/dory/oar rafts because the guide must charge full speed into the heart of the rapid, as it is the deepest part of the river and increases the chance of the propellor not getting dinged. These larger motor rafts also give passengers a sense of security as they likelihood of capsizing in a raft this large are next to none.
Non-motor Rafting Overall, the non-motor rafts are fit for individuals who crave to experience a more genuine style of white water rafting. When compared to motor powered rafts, these vessels are relatively smaller in size and lighter in weight, with a passenger capacity of 4 plus your guide in an oar raft and dory boat and 6 - 8 plus a guide in a paddle raft. This raft requires a more nimble hand and much more endurance then motor rafts for obvious reasons. Since this is manually powered, it approximately takes twice the time to navigate the river compared to a motor raft. While the speed of a manual raft is somewhat dependent on the passenger, the average speed of these type ranges from 3-4 mph more due to the speed or current of the river which is being released by the Glen Canyon Dam. The minimum age requirement for non-motor Oar Dory and some Paddle rafting is 12 years old. Other outfitters have a minimum age of 16 for the paddle raft.
Oar - this is a relatively small raft. Usually, the guide rows 100% of the time but if the water is considerably calm, with the discretion of the guide, passengers take a turn. A group in an oar raft may be composed up to 24 individuals.
Dory - this type features boats made out of hardwood or fiberglass. This raft is rigid making it faster moving compared to the oar raft. Dory trips also accommodate up to 24 individuals per tour group.
Paddle - this requires all passengers to paddle full time. Smallest raft type of all, and definitely most active.