Do you want to try something different and exciting this vacation? Are your eyes on an adrenaline rush rafting trip?
If yes, you've no doubt made a good choice. But as a first-timer, you will be a bit nervous and have lots of questions about packing, techniques, and logistics for a fun and successful experience. Keeping this in mind, we have compiled 15 beginner tips we feel are the best advice for a first-time rafters' white water experience.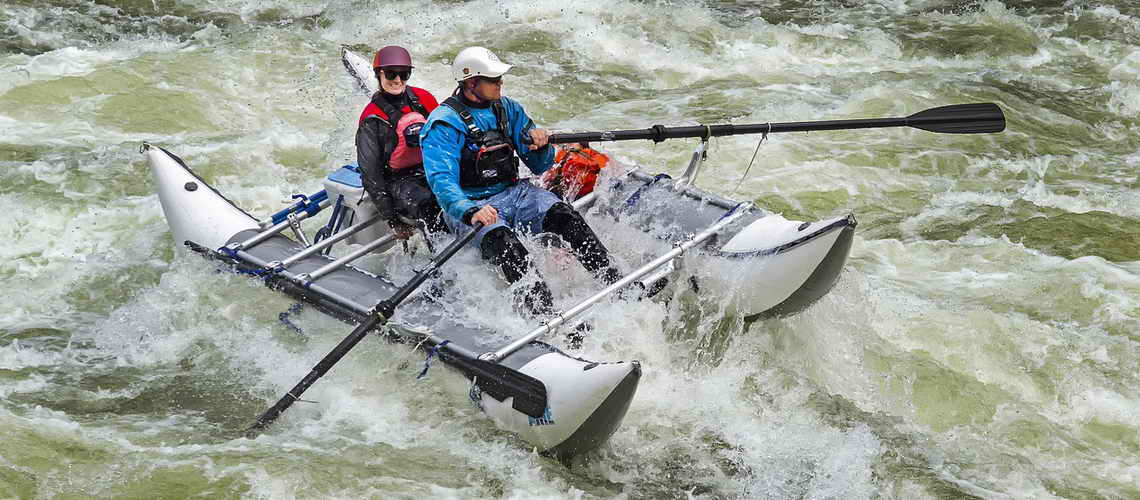 15 Safety Tips for your first whitewater rafting trip
1. Know your rivers
The US rivers fall into six classes I-V, ranging from the easiest to the most vulnerable. Class I is the safest and best for first-timers for its excellent starting point and great adventure. Class V river rapids are like giant waterfalls even professional guides avoid.
Most of our trips are in the Class II-IV range. It's left to you to attempt class based on your comfort level. Adrenaline junkies can always try a challenging course, but the calm rivers are a better choice if you want to relax.
Besides, the three main rivers used for whitewater rafting in the Adirondacks are the Hudson, Moose, and Sacandaga RIvers. The Sacandaga River is ideal for a first whitewater rafting experience on Class II &III Rapids.
The Hudson River is stronger with Class III & IV rapids and more waves and obstacles. The most experienced whitewater rafters find Moose River trips challenging.
Read More about Whitewater Rafting Rapid Levels
2. Listen to your guide's safety talk.
You need to know some commands before going on a river raft journey, like high-siding, which our guide will explain in the safety talk. High siding is the command given as a last resort to prevent the raft from capsizing.
While the chances of this happening are low, it's better to be ready than panic. So please listen to your guide when they explain it. When the guide calls 'High-side,' you need to head to the boat's downstream part and throw your weight to the raft's downstream tube. It's most vital that you go to the river flowing direction.
In addition to commands, our guide will provide lots of helpful essential tips during the safety talk at no additional cost, like:
Importance of keeping hydrated
Safety tips
River history
What to do during rescue situations to avoid foot entrapment
Paddle commands
Interesting information and history
3. Select a licensed and professional outfitter
Don't forget to ask questions while selecting the best outfitter for whitewater trip. You can ask them things like how long they have been in their current ownership, the training they have undergone, and which government entity controls their training.
4. Stay in the raft
While it's obvious, you never know when you may end up swimming next to it during a rafting trip, especially if you aren't careful and attentive. Pay attention to rocks and our guide's commands. If the boat collides with a rock, get a firm grip on the paddle, and return to your seat to start paddling.
Do not panic if you fall out of the boat. Most people end up next to the boat, so grab it before floating away. If you are far away from the boat, look for other boats or head to one of the riverbanks for safety.
5. Learn proper swimming techniques
There are two techniques to know if you fall out or jump into the river for fun.
One is the 'Down River Swimmers' Position,' where you lie on your back with heads up and see where you go. Keep your feet downstream and knees slightly bent so that your feet and legs work as shock absorbers if you hit a rock. Keep your arms by your side for better control and butt up. You risk getting bruised by sitting with your butt low in the water.
The second technique involves lying on your stomach, pointing in your preferred direction, and swimming till you are out of the river. Our guide will recommend which position to use to swim.
6. Pack properly
Most of our rafter guests end up using only a quarter of the stuff packed. So instead of hauling unnecessary things to camp every night, we recommend packing light. Just pack things you will need like a cheap pair of polarized sunglasses, hand sanitizer, trash bags, board shorts, water shoes, flip flops, and not too many electronics.
Don't forget your camera and extra memory cards to capture pictures of the jaw-dropping scenery, nature, and wildlife. Don't worry about bringing a sleeping bag as we have equipment available on hire.
Also, pack according to the weather. As the water is cold in early spring, we recommend wearing a splash jacket, wet suit, and appropriate shoes for more comfort. You should also be ready for clear, sunny days by wearing quick-drying clothes and sunscreen. The last thing you want to spoil the fun is ending up with sunburn or hypothermia!
We do not recommend bringing something precious or sentimental on a whitewater rafting trip as there's always the risk of losing things amid the thrill and excitement of rafting. While you can always replace lost cell phones, you can't replace any lost family heirloom jewelry!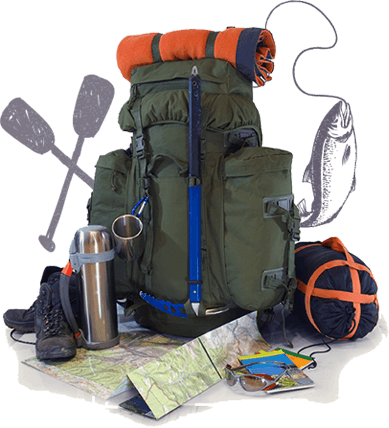 7. Choose the right time to go.
Yes, you need to choose the best time for your trip because white water rafting adventure is a summer activity available from mid-spring to mid-fall. Spring leading into summer is the best time for thrill seekers to go river rafting.
The runoff from snowmelt swells up rivers to build water pressure and create wild rapids. If you prefer gentle rapids, plan a trip between September and October, between summer and fall.
8. Have a life jacket and helmet on all the time
It doesn't matter how challenging your rafting course is; wearing a helmet is a must at all times. And while a personal flotation device makes your rafting journey safer, it helps only if you clip all buckles. The jacket should also be snug enough not to be able to pull it off your head and not so tight that you can't breathe. Our guides will ensure your jacket is the right fit.
9. Work as a team
Rafting has always been a team sport, and the proper teamwork while paddling makes the difference while navigating through challenging rapids. Teamwork gives our guides the power and maneuverability to take the raft where they want. Our guide will teach you the different paddle commands to sync with the team.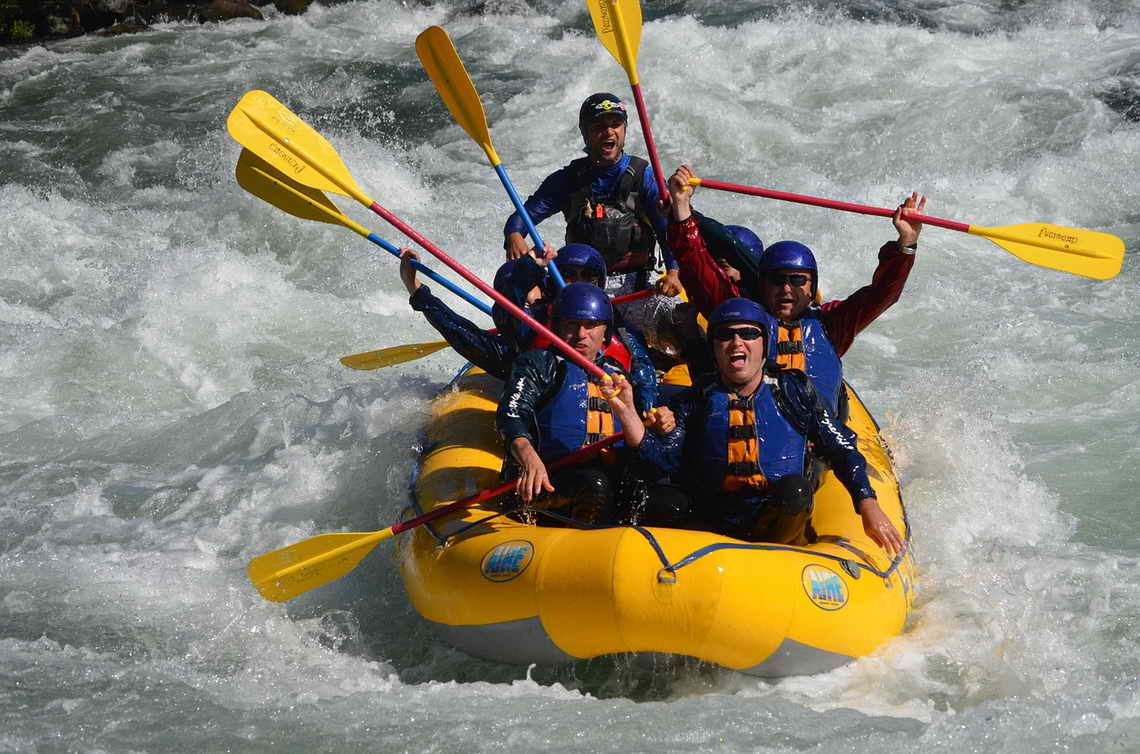 Besides, rafting is a sport you should never do alone. So first-timers should have an experienced guide or rafter. And if you are a pro, you still need to take along other experienced rafters.
10. Avoid rafting in the dark
We always go rafting during the day, when the sun is out, and we end our trips before dark. While it's enthralling going on 'moonlight' rafts down rivers, you need to be with an experienced guide and company. Besides, it does get creepy to raft in a pitch-black river.
11. Unplug yourself
You are undoubtedly used to carrying your electronic devices around and posting vacation photos. However, we recommend you consider unplugging while on a whitewater rafting trip. Just leave your cell phone and spare batteries in the car, as you don't get good reception in the rivers.
By unplugging, you can better enjoy the surroundings like water splashes, the river flow, and the sound of waves and family and friend chatter.
12. Proper paddle hold
You must know how to hold the paddle properly. The appropriate grasp is with your one hand at the shaft's paddle base and the other hand on the end of the shaft, over the 'T' grip. The plastic 'T' grip is hard enough to blacken eyes and knock out teeth.
So the proper grip gives you better control of the paddle and protects you from any possible blow. Don't worry; our guides at Advantage Grand Canyon will teach you the appropriate oar holding technique.
13. Wear sunblock
it doesn't matter if it's a cloudy or sunny day. Make sure you lather up with sun and UV protection. Though you will be on the water most of the time, the sun rays tend to bounce off its surface, leading to possible sunburn. We even recommend you wear sunscreen a second time at lunch if you go on a full-day trip.
14. Keep hydrated
It's tiring paddling all day, so be ready for its intensity by keeping well hydrated before the trip. It's worth carrying an extra water bottle or two, and a hearty breakfast makes a great start to the day!
15. No alcohol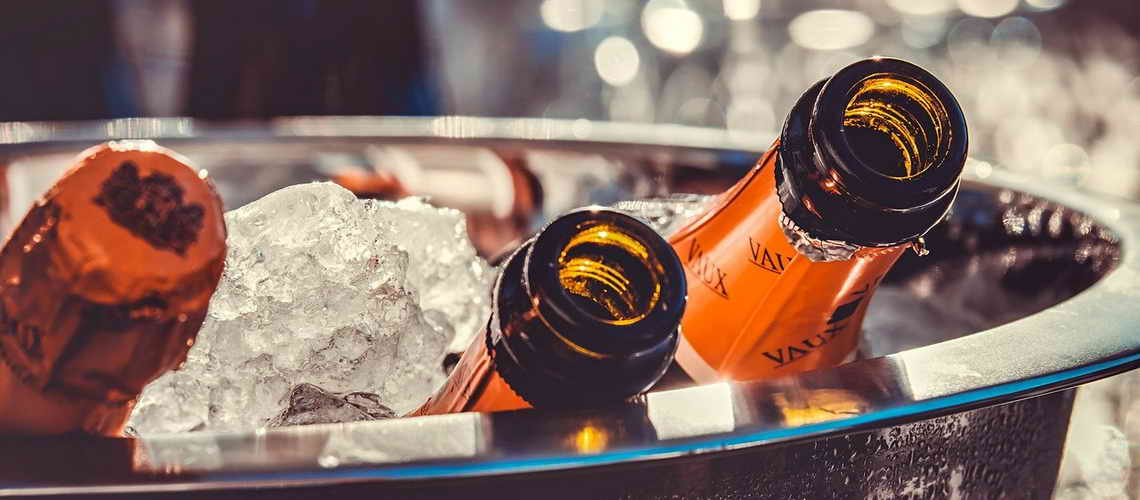 Don't consume alcohol if you are looking for fun and thrills on your trip. Alcohol only endangers you and makes things risky for other rafters.
Conclusion
These fifteen basic tips are more than enough to help a first-time rafter guess what to expect on a white water rafting adventure. Suppose you need more help or assistance while planning; contact Advantage Grand Canyon for all your Grand Canyon whitewater rafting trips. Search all top 15 outfitters right here!