South Rim Grand Canyon Tours Versus West Rim Grand Canyon Tours
One of the most difficult parts of taking a tour in the Grand Canyon will be to make a decision on a South Rim Grand Canyon tour or a West Rim Grand Canyon tour. Both of these destinations offer fantastic views,
fun and adventure
. Below is a rim-by-rim comparison which can assist you in making an informed decision on your preferred tour.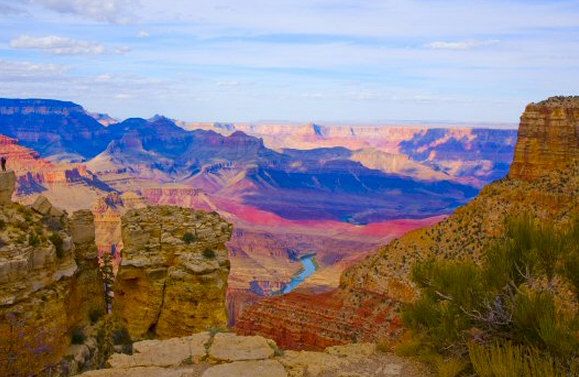 Scenery Or Activities
If you choose a West Rim tour, this destination is full of activities to choose from. This is the one destination where you are able to ride on a helicopter around 4,000 feet to it?s base. You can then decide to walk upstream or river raft on the Colorado river. In addition, the famous and well-known ?
Grand Canyon Skywalk
? can be found in the West Rim. This specific attraction is a glass-bridge magnificently engineered, suspended ?4,000 feet? above the Colorado river.
Some exotic activities include helicopter tours to a cattle ranch, horseback riding, ?ATV? trail rides and off-road adventures. One of the popular West Rim adventures is a smooth-water rafting expedition from the Hoover Dam onto Willow Beach. The
South Rim Grand Canyon Tours
are very tame when compared to the available tours on the West Rim. However, it makes up for this with it?s natural beauty and fantastic sight seeing locations. This portion of this National Park is often referred to as the ?real canyon.? There are no available copter rides for the bottom of the South Rim. However, if you wish to reach the base you can walk. One of the helicopter rides available for the South Rim is a ride from Tusayan that will take you into the deepest and widest portion of the Grand Canyon known as ?Dragoon Corridor.? In addition, you will not be sorry if you take advantage of the one day ultimate
rafting trip
that is available between the months of April and November. The options for this specific tour include an airplane or bus to ?Page, AZ? that will then transfer you onto a ?river raft.? This is known as a ?smooth water? trip and children over the ages of four can participate. The trails available for the South Rim are considered to be amazing. Some of these trails include the Rim Top, South Kaibab and the Bright Angel. If you are interested in lookout points consider the Hopi Point, Yaki Point or Mather Point. Many of these available tours will include an experienced guided tour.
Starting Points
The ?South Rim? is considered to be too far for the helicopters from Las Vegas. The options available for this location only include bus or airplane. The more preferred method of travel would have to be the 45 minute plane flight that leaves from ?Las Vegas.? This method of travel is comfortable and much faster than the bus trip of five and a half hours. Sedona and Phoenix travelers can drive to this destination, there are airplane, buses and helicopter trips available, but it is a far cheaper option to drive. These locales can then take advantage of the air tours available from Tusayan at the ?Grand Canyon Airport.? Book a
great rafting trip
with us while you are here in the Grand Canyon!