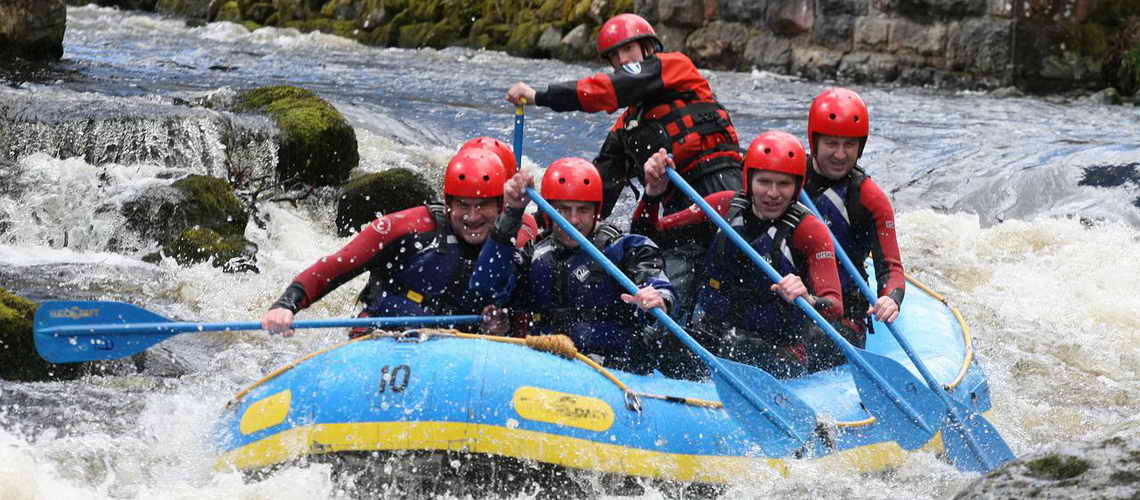 If you haven't tried whitewater rafting before, this is a sign for you! For many, this activity is an amazing adventure sport as it offers various levels of rapids delivering an adrenaline rush for everyone, whether you are a beginner, pro, or a family with kids on your first rafting expedition!
If you are a fan of whitewater rafting, this guide is for you. Today, we are listing the top 12 world's best whitewater rapids and showing you some of the most famous rivers, volcanic gorges, lava falls, and places where you can let the adventure begin. We hope that this guide will help you narrow down your list and choose the best rafting destination for your needs.
1- Lava Falls At Colorado River (United States)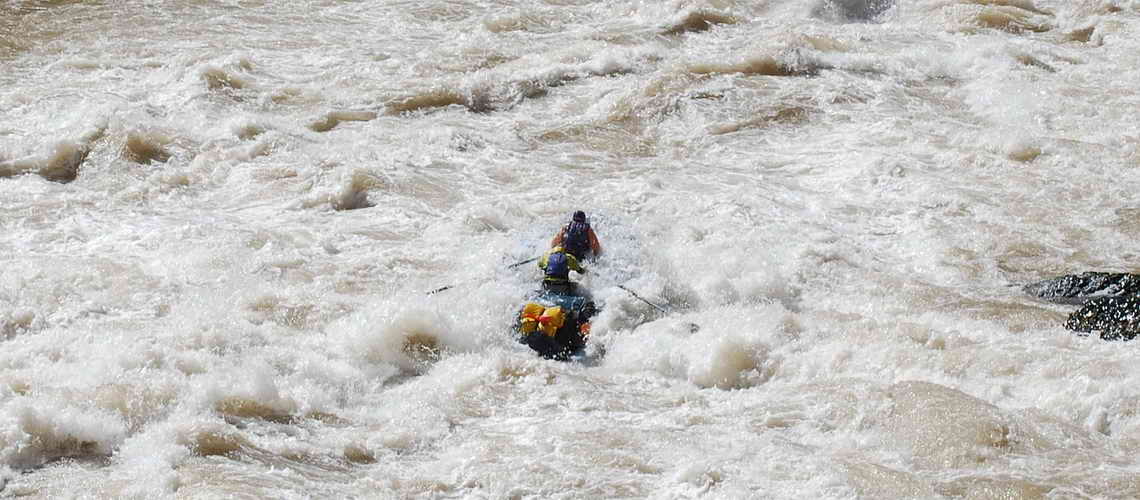 Located in the Grand Canyon, Colorado river is a great place for whitewater rafting. Lava Falls is the biggest rapid in the canyon, which also makes it the most fabled out there., with a Class 10 rating (the highest degree of difficulty in the Grand Canyon) .
What's interesting is the fact that the Colorado river falls 37 feet over the span of several hundred yards, allowing rafters to pretend they are in control while trying to avoid the huge hole at the boat-flipping point of Ledge Hole and the Big Black Rock.
As the adventure continues, the goal of this rafting trip is to make it to Tequila Beach, which is the place to celebrate and refresh. All in all, Lava Falls is a place where you should head for some excellent whitewater rafting opportunities, and at the same time one of the scariest and best river rafting locations in the world.
Other places worth mentioning when talking about Colorado River include the Cataract Canyon and the big drops 2 and 3 (which are actually two rapids) that are two of the top ten biggest rapids in North America.
2- Zambezi River (Zimbabwe/Zambia)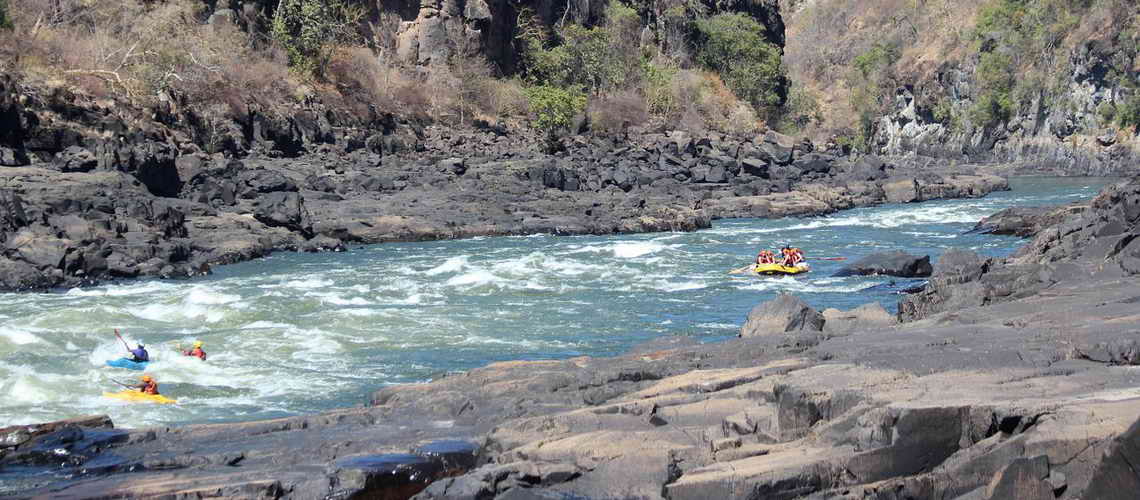 Next on our list is a whitewater rafting destination located between Zimbabwe and Zambia. We are talking about the Zambezi river, which is among the best single-day rafting runs for thrill-seekers and paddling enthuaists. It's easy to see why the Victoria Falls on the Zambezi river are challenging – there are 23 rapids in a compact 15-mile run, making the adventures wet and wild.
If you are planning a Zambezi river Zambia rafting trip soon, know that fun is guaranteed, and an adrenaline rush is what you will get as soon as you hop in the raft. You'll have a lot of fun going through Batoka Gorge, but the real highlight is at Victoria Falls, which is the world's largest waterfall by volume making for some great surroundings out there.
The names of the Class III rapids, but also Class IV and V rapids here include "Gnashing Jaws of Death," "Devil's Toilet Bowl," or "Commercial Suicide," which certainly makes rafter a bit nervous before hopping in the water.
The last run is, according to many, the real challenge. It's named "Oblivion" and known for the thrill that it brings – so much that only about a quarter of all rafters make it through it without flipping their boat.
3- North Johnstone River (Australia)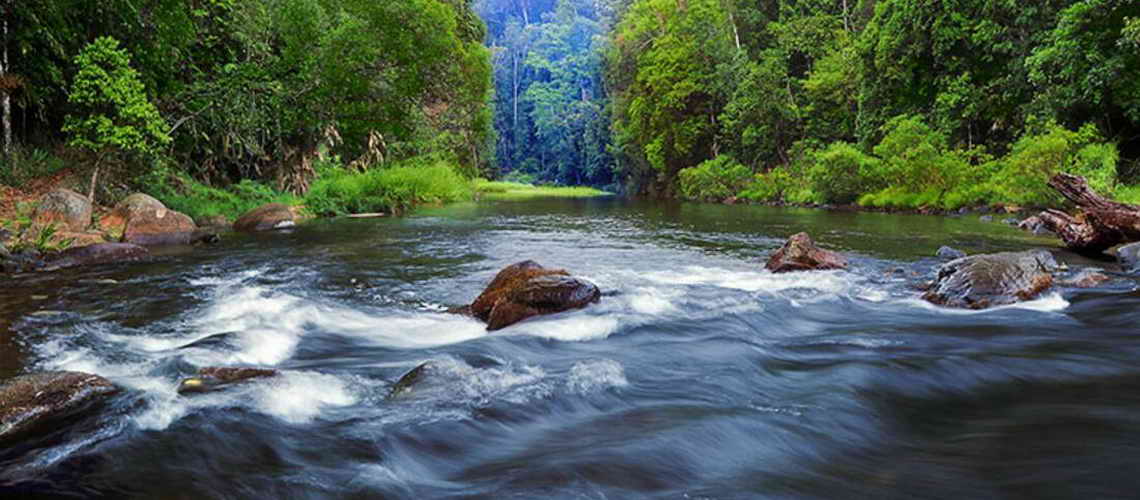 Located deep in Queensland and near the Palmerston National Park, Australia, North Johnstone river is a great location if you are looking for Class IV and V rafting rapids. The rafting excursion takes you through a World Heritage-listed pristine rainforest, and a zone which is among the most challenging ones in the country for decades.
They say that this river is mostly suitable for experienced rafters who are looking for another thrill. There is a reward if you reach the final point as the sun sets – dancing fireflies on the forest's canopy and luminous fungi growing along the river banks and lighting up the scenery.
4- Franklin River (Tasmania)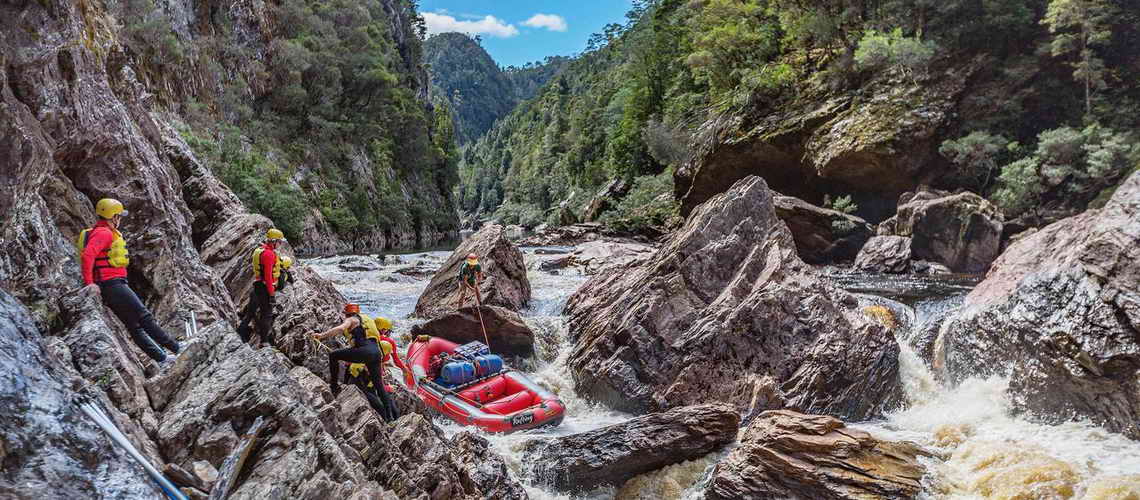 Want to see the Tasmanian devil from up close? Head to Franklin river...
Jokes aside, this river has made the country an unexpected whitewater rafting destination and a place where many adventurers throw their paddle rafts for some epic battling of gorges, rapids, and waterfalls. For many people, the river is also a synonym of wilderness conservation – it is one of the world's last great wild rivers that offers a mix of wild gorges, quiet pools and an amazingly temperate rainforest.
There are six main grades for whitewater rafting activities, but most of the Franklin river is Class II to Class IV rapids, while there are some places where it is Class V and VI, making it navigable only for experienced rafters.
5- Salmon River (Idaho, United States)
The Middle Fork of the Salmon River is a popular rafting destination, and a place where you can find pure wilderness without any sign of civilization. No roads, no houses and pure nature is what you'll get here – the remote area of wilderness, hot springs, and areas free of any civilization lets rafters disconnect from their daily lives and enjoy the thrills of the Class II, Class III and Class IV rapids.
The full span on the Salmon River is 105 miles long. there is a 3,000 elevation drop and at least 100 rapids which easily put it among the best rafting destinations.
6- Rio Cotahuasi River (Peru)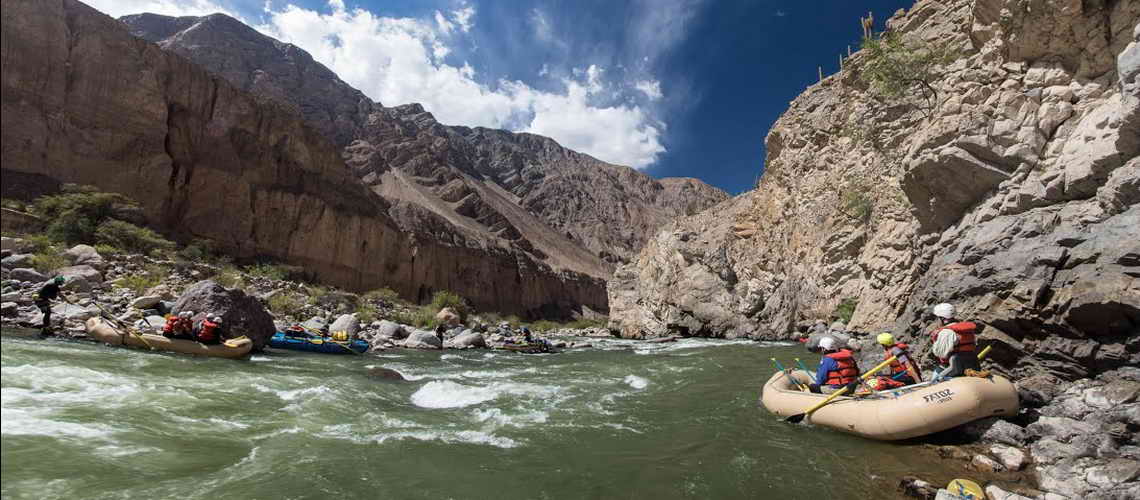 There are plenty of things worth seeing in Peru, and for whitewater rafters, travels down the Rio Cotahuasi river are certainly on the list. The amazing run goes past canyons and fascinating historical ruins of the Incans. The complicated thing is that you'll need to trek all day to reach the put-in area from Cotahuasi, but trekking is absolutely worth it.
Because of that, most people book a six to eight day trip to see this river and the 100 miles of paddling through rapids that reach Class IV and Class V status.
7- Çoruh River (Turkey)
The Coruh river whitewater rafting is another location where you can indulge in some Class V rapids and challenge yourself to get an adrenaline rush as you go through the gorges and explore the amazing wildlife surrounding the river.
From mountain goats to wild boars or even brown bears fishing for salmon, it's common to see wildlife and make your trip to Turkey memorable. There is also the amazing Kaçkar Mouintains National Park which is with visiting, along with some amazing historical ruins. In many ways, Coruh River defines an amazing rafting trip.
If you don't want to visit Turkey but want a rafting journey in Europe, head to Italy and Noce river
8- Rio Zamora River (Ecuador)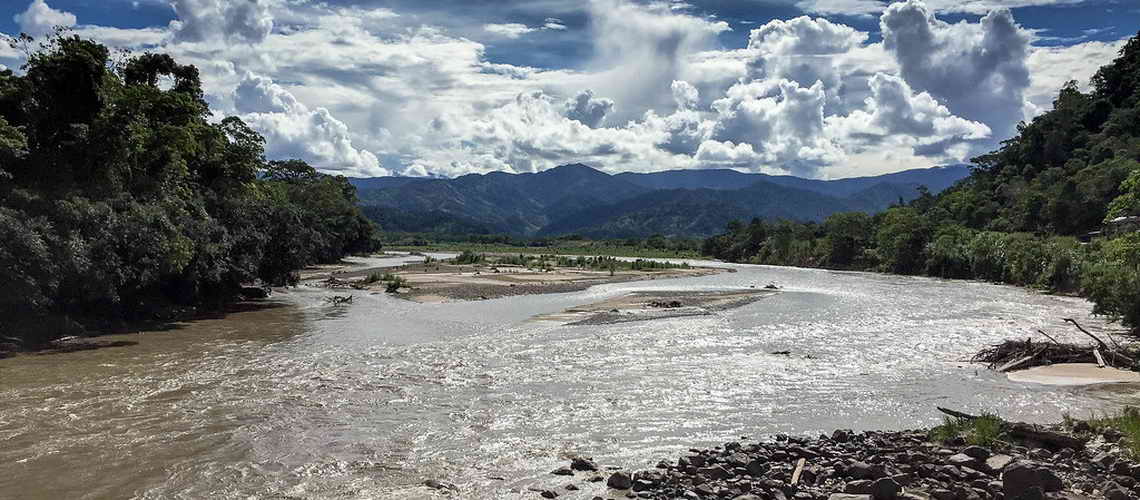 Another gem of South America and a place which plenty of whitewater rafting enthusiasts visit for pure fun and adventure. There is even a book called 'A Journey on the Rio Zamora' written by J.L. Hermessen that explains how fun it is to raft in a river on the Amazon side of the Andes, and how great the flow is.
With bigger, cleaner and more scenic views than rivers in the West Andes, Rio Zamora is a place where you can explore the wild rainforest, spot some unique wildlife species and indulge in a rafting adventure starting from the town of Macas. You can then travel through the canyons and get a feel of the Class V rapids, sacred waterfalls, and the Namangosa Gorge.
If you are visiting Ecuador and want more river rafting action, you can also add Rio Upano river to your list, which runs through a rainforest and a few local villages.
9- Sun Kosi River (Nepal)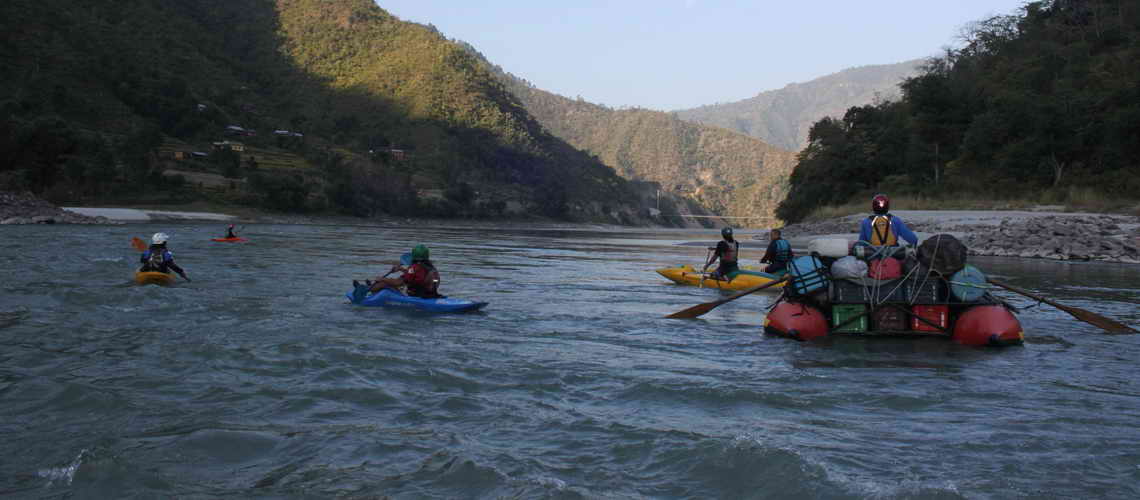 The literal meaning of Sun Kosi river is "River of Gold" which is certainly a name that this river deserves. Fed by the Himalayan glaciers, Sun Kosi is a paradise for thrill-seekers interested in exploring Class V rapids.
The river flows through narrow gorges and mountain canyons starting in central Nepal and reaching Chatra Gorge around 170 miles downriver. You can go overnight camping, indulge in the views of the legendary Himalayas, and take some time off to complete the full Sun Kosi River run (typically rafters book a 10-day trip here). The best time to visit is anytime between September and January – the river is unrunnable other months because of the glacier melting and tripling its size.
10- Rio Futaleufú River (Chile)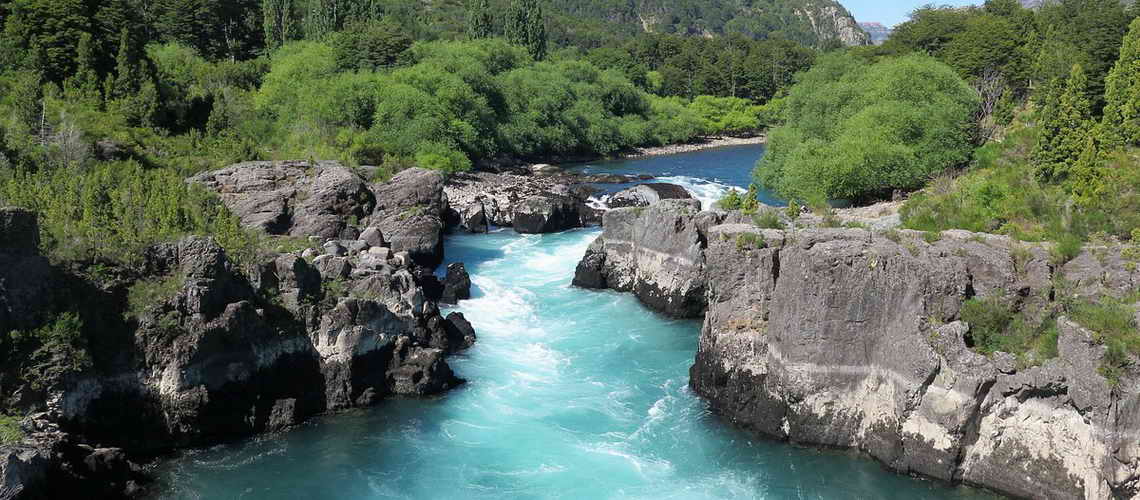 The Rio Futaleufu river is in the Patagonian region of Chile, in fact in the middle of some of the world's most spectacular scenery. If you want to experience views that are out of this world, we advise you to book your trip sooner to find real paradise.
The water is so fast that in October 2014, the chilean government planed to build a hydroelectric dam on the chilean side, but the plans were disapproved after a long struggle by organizations that were determined to save the communities, but also the wildlife and environmental beauty of this place.
This amazing turqoise river in Chile is fed by the Andean glaciers – high mineral content is how it gets its stunning color. There are so many activities worth considering when in Chile, and near this place, you can go ziplining, horseback riding, hiking, rock climbing or even glamping.
So, are you booking a trip to Chile to see Futaleufu river and all the thrills it offers?
11- Magpie River (Canada)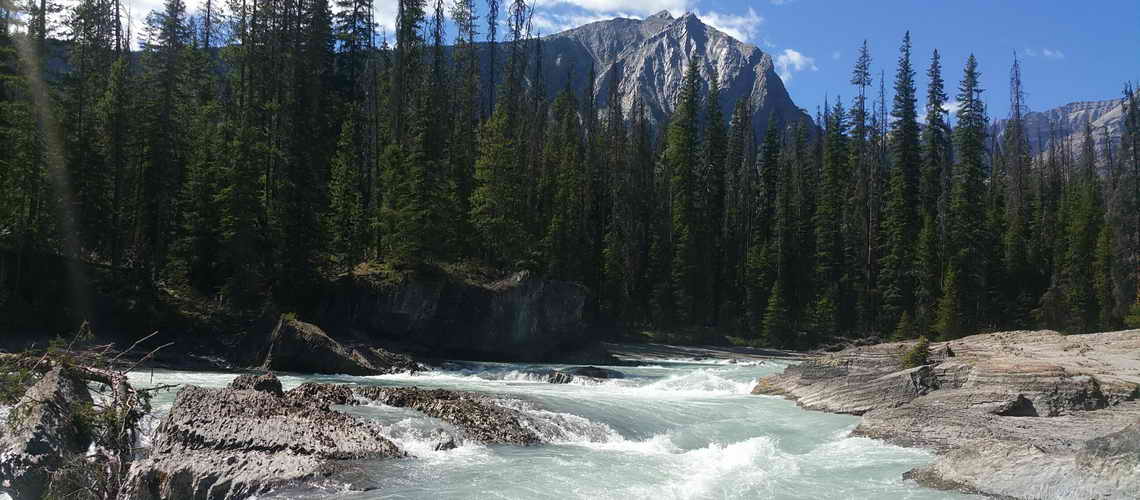 Magpie River is a place where you can see Class II rapids, but also indulge in Class III and Class IV rapids in many places, making it a challenge for many. The entire region is in fact remote and surrounded by pine triees, which is why landing a floatplane on Magpie Lake is your best bet in reaching it.
The adventure, however, is well worth it – the fun starts the moment you hit the water and go through the amazing granite gorges and beautiful sections of rapids. At night, you can enjoy seeing the Northern Lights, which is why most people recommend going for a week-long trip in Canada.
12- Arkansas River (Colorado)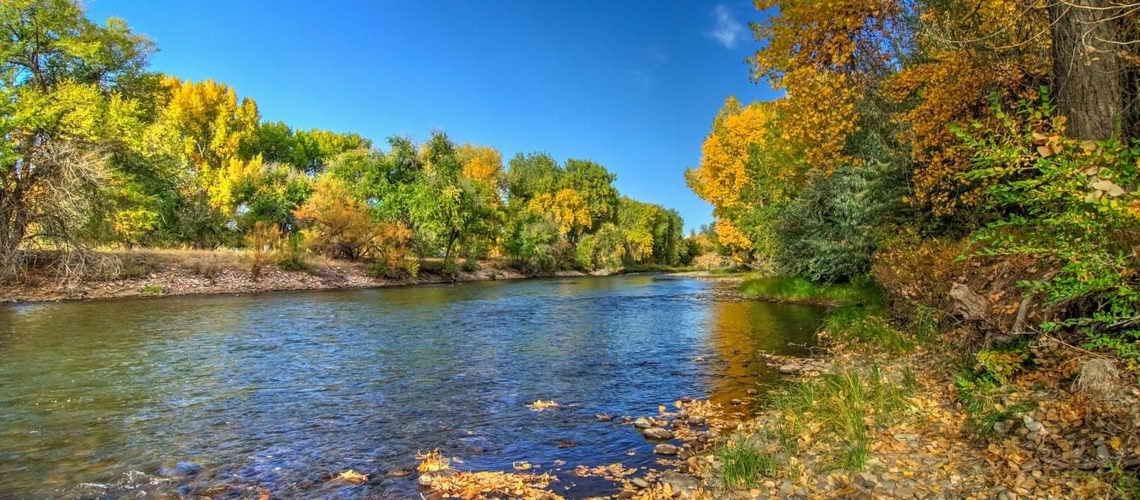 Another popular whitewater rafting location in the United States is Arkansas river. Located southwest of Denver, Colorado, the location offers a lot of activities for everyone and not only rafters. For instance, you can consider the Royal Gorge as an ideal spot for relaxing with your family, but if you go rafting, know that it features up to a few sections that reach up to Class V rapids. Your best choice is to visit it for a few days to enjoy all that the river has to offer.
So, Which Is Your Next Whitewater Rafting Destination?
If you are from the US, you can always start with the Colorado River and book a whitewater rafting adventure to the Grand Canyon. You will see some of the fastest flowing rivers, but also do other activities as horseback riding, rock climbing, booking a helicopter ride to see the canyon from above, etc. Later on, you can explore the Pine Creek on the Arkansas River (Colorado), visit Snake River (Wyoming) see the Husum Falls on the White Salmon (Washington), explore the Gauley River (West Virginia) or Chilko River (British Columbia), Chattooga River (SC, GA) Mushroom Rapid on Cherry Creek (MI) the Danger Falls on the Middle Fork of the Salmon (Idaho) or Chilko River (Canada).
If you want to travel abroad and visit a specific location for a continuous whitewater rafting trip such as Europe or South America, you can always research for more locations. For instance, the Noce River in the Sun Valley is a great rafting destination in the Dolomites of northern Italy, while Peru, Ecuador and Chile are all great locations within the Americas where you can tackle a rogue river. We believe that some of the above mentioned legendary rivers will make it on your list!