You Can River Raft To Enjoy the Waters of the Grand Canyon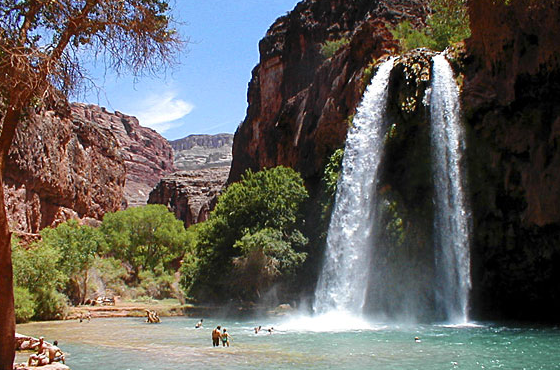 The Grand Canyon is home to some of the world's most remarkable river systems. Not only does it boast of a variety of spectacular geologic features, its' rivers also offer a variety of water-related activities perfect for the whole family, friends, groups, and many solo travelers. Although it is perfectly okay to enjoy the Grand Canyon scenery in one of the chartered helicopters providing sightseeing services to tourists, nothing can beat the first-hand experience of navigating through the waters of the Colorado River. It is only on a white water river raft trip, that one witnesses by raft how this mighty body of water was able to carve one of the world's most marvelous geologic structures.
When You River Raft Be Mentally and Physically Prepared
As the colorado river in the Grand Canyon is home to some of the world's most exceptional whitewater rivers, it does pay to be prepared for your rafting trip. This is especially important for anyone who is hiking the Bright Angel trail on upper or lower canyon raft trip. We have a terrific video on the trail with information on how frequently potable drinking water is available as well as the elevation gain/loss. What Gear You Will Need One of the advantages of taking a raft trip in Grand Canyon with one of our commercial outfitters is that they will provide you with almost everything you will need! This includes your sleeping bag, tarp, tent, sheet, sleeping pad or sleeping cot as well as necessary dry bags to keep your clothes dry while you're on the river. This also includes an unlimited supply of fresh drinking water. You are responsible for your clothing which mush include a rain jacket and pants (regardless what time of year you are rafting, as well as your clothing and hygiene products. You will receive a detailed list of items to bring with you upon reserving your raft trip. Do not forget your GoPro camera or other waterproof photo or video equipment to capture those thrilling moments in the Grand Canyon. Choose the Rafting Trip for You Depending on your skill level plus the amount of time you want to spend on the rivers of the Grand Canyon, you can opt for a simple one-day rafting trip or commit to a life changing 15-day river expedition with one of the 16 concessioners. There are also half-trips that can give you a brief yet very comprehensive view of the Grand Canyon ecosystem. We have a staff of trained professionals who have navigated every raft type and every route that is offered. We know what to expect and all of the itineraries offered by the outfitters. We can find you a raft trip that best meets your criteria, and prioritize your list of importance whether it be trying to fit a trip within your selected vacation time or travel window, navigating the optimal Grand Canyon route you prefer, or ensuring you are in the raft that you most desire. Advantage Grand Canyon is here to guide you from the first phone call, all the way to the day you depart for your trip.