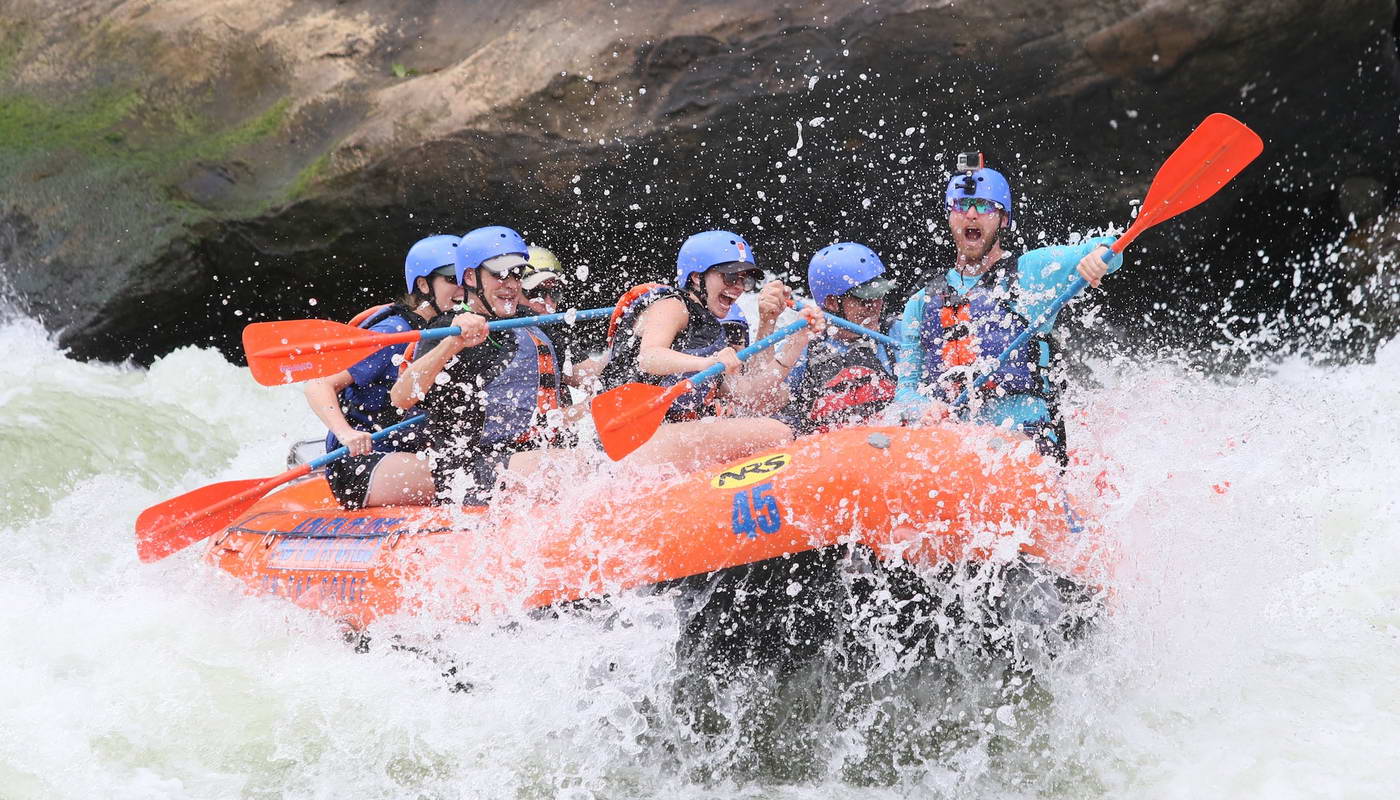 Whitewater rafting is one of the most popular activities in the United States. People of all ages and experiences usually find navigating exciting whitewater rapids and bouncing about the spurting waves and river rocks thrilling. It isn't surprising that an increasing number of outfitters online offer advice on the best rafting locations.
Sadly, such an abundance of advice from numerous outfitters who care more about selling a season ticket can make advising you on the best rafting rivers challenging, especially if you're beginning your whitewater rafting adventure. This article will show where to experience some of the best Whitewater Rafting trips in the world.
Colorado River Through the Grand Canyon, USA

The Colorado River runs 226 miles through Utah and Arizona and features a great view of the Grand Canyon from the Colorado River. While on this river trip, you can do hikes on waterfalls and visit the ancient Navajo ruins and side grottos of lava canyon. As part of its attractions, it has enormous rapids and some excellent campsites. Some companies run half-day, one-day, three-day, or even eighteen-day trips on the Grand Canyon, depending on your schedule and physicality.
You can go on a river trip almost any time of the year, but the best time to go whitewater rafting is from May to September. Be careful to choose a period that would allow you to spend more time at the Grand Canyon and allow you to explore. You can also choose which medium you want to employ as you can choose between paddle rafts or oar rafts, motorized and dories.
Prospect Canyon, Arizona
The Lava Falls Prospect Canyon runs through the Grand Canyon, where you can enjoy hiking, see the fantastic landscapes of Northern Arizona, and even go horse riding. At Lava Falls, the river through the middle fork of Grand Canyon plunges over a cliff with a grade X rapid about 37 feet deep. Although these grand rapids could be terrifying, once you can work through your fears, you will easily enjoy the Beach at the endpoint of the Lava Fall.
Magpie River, Canada
When you visit the Magpie River, you can see wildlife and secluded and ancient forests when you raft down the river. If you are up for it, you also experience intense rapids like whirlpools, Picket Fence Rapids, and even the George Camp. It flows from the Labrador Plateau to the Saint Lawrence River in Canada. The Magpie River graces you with the beautiful Magpie Falls and the wonders of the aurora borealis. The trip starts at Magpie Lake and ends in a Grade V rapid at Magpie Falls. It is one of the prettiest rivers to explore while rafting, and the experience is breathtaking.
Zambezi River, Zimbabwe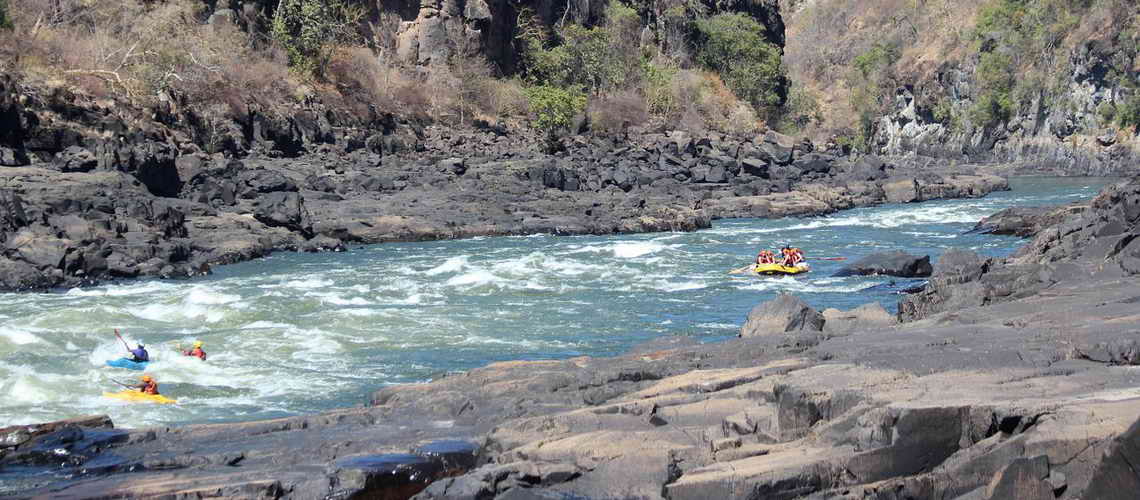 The Zambezi River is found in Zimbabwe and starts just below Victoria Falls. Within a 15-mile stretch, the river boasts some 23 rapids, and you even get to see wildlife, such as hippopotamuses and crocodiles, along the river. The river distance stretches between the narrow walls of Batoka Gorge through Grade IV and V rapids, such as the Gnashing Jaws of Death. Trips start at the world's largest waterfall, which is Victoria Falls. You can book a trip here for a day trip or half a day. Some tours could last up to a week or eight days.
Rio Pacuare, Costa Rica
Rio Pacuare goes through Costa Rica's Indian Reservation, a pristine rainforest where you will see leopards, monkeys, jaguars, and birds with some luck. It also features a waterfall flowing into the river through class III and IV rapids for 29km. You get to enjoy and experience rapids such as Pinball or Terciopelo Snake. Suppose you opt for multi-day trips to Rio Pacuare in Costa Rica. In that case, you will enjoy the serenity of nature with its eco jungle lodges.
Salmon River, Idaho
Salmon river is sometimes called the river of no return and is the longest-flowing undammed river in the United States. The river drops over 7,000 feet as it flows through scenic routes such as the Galena Summit in Sawtooth National Recreational Area. The middle fork of the salmon river is considered a crown jewel of wide and scenic rivers. The area is one of the most popular rafting rivers in the world due to a section of the river called the Main fork of the salmon river. You also be treated to the views and complex geology of Salmon canyon (some of the deepest canyons in the United States). You can engage in activities such as rafting trips, hiking, and some plane rides.
Rio Upano River, Ecuador
The rafting trip through the Rio Upano River is a wonderful one to participate in, paired with the excellent views of the Andes Mountains in South America. The locals call the river The Godzilla as the waves can go up to 15 feet high, and the river's swift flow makes it an incredible challenge for adventurers when rafting. Something else to look out for is the beautiful scenery and impressive waterfalls on both sides.
Gauley River, West Virginia

West Virginia is known as the "raft capital of the world," as Whitewater rafting is one of the most popular recreational activities there. The river is 25 miles of rugged terrain with over 100 rapids, huge waves, and a steep gradient. The Gauley offers tremendous class III to V+ drops and rocky routes. The Pillow Rapid on the Gauley River is a class V rapid with a fast-flowing river regarded as the finest and most adventurous rafting river in West Virginia. The Gauley is one of the best rafting trips you could take,
Karnali River, Nepal
The best time to experience the Karnali River in Nepal is in mid-October. The river is Nepal's longest and largest waterway and originates at snowy Mount Kailash. The scenery surrounding the river includes dense jungle, lush greenery, towering Himalayan peaks, and beautiful beaches. These features are why the region is known as the Holy House. The Karnali has mostly class III rapids, but some parts could be of class IV quality, making it one of the best rafting rivers in the world. Karnali boasts great rapids, such as Jailhouse Rock, God's House, Juicer, etc.
Chilko River, British Columbia
Chilko River is diverse in its enormous stretches of class IV Whitewater currents. The river is a 75-kilometer-long river in the Chilcotin District of British Columbia, Canada, and drops from an altitude of 3,000 feet from a dense mountain forest to a silty desert canyon. The rafting expedition takes you through narrow canyons, alpine forests, high desert plateaus, and sky-scraping hoodoos. The Chilko River is flawless, with clear visibility to about 20 feet, and offers a good river rafting experience.
Chattooga River, Georgia

The Chattooga River originates from the mountains of Western North Carolina; it runs 57 miles from North Carolina into Georgia and South Carolina. The river offers fantastic scenery ranging from twisting rock-choked channels to narrow, cliff-enclosed deep pools with thundering falls. You will find sacred waterfalls surrounding dense forests and underdeveloped shorelines characteristic of nature. The rapid current of Chattooga is class II to class IV quality and is famous for its Bull Sluice rapid and dramatic falls that pump adrenaline into you.
Tuolumne River, California
The Tuolumne River offers 16-18 miles of class IV to V rapids bound to give you an adrenaline rush. The huge rapids and big waves of this river are demanding and spaced at close intervals making a recovery for adventurers more difficult. Tuolumne boasts over 40 named rapids that are fast, big, and cold in the early season. In later summer, they are trickier and more frequent. Clavey Falls is something to experience on the Tuolumne River as the excitement comes non-stop as the river winds down and drops through granite boulder fields.
North Johnstone River, Australia
North Johnstone has class IV rapids, with some grand rapids reaching class V, making it one of the more challenging rivers in Australia. The Rapids of the North Johnstone River is known to be technical and extensive. Beautiful tropical forests and volcanic mountains surround the river. The surrounding river boasts waterfalls, basalt cliffs, and canyons. The trip usually takes four days to experience the breathtaking scenery and exhilarating rafting adventure.
Conclusion
Going on a river rafting trip is a wholesome and exciting experience you can enjoy individually or in groups; it doesn't matter about your age or physicality. You will also find that it offers many benefits as you will feel refreshed after most trips. A good thing about this activity is that you can engage in it in almost any part of the world.
Sadly, there is so much advice on the best place to go rafting. With such an overabundance of information, it can take time to make the right decision. This article has outlined some places to have the best whitewater rafting trips. These spots have amazing landscapes, great rivers, rainforests, big holes, hot springs, and unique landscapes that will rejuvenate you mentally and physically. You can quickly join a satisfying rafting experience anywhere in the entire world.
Contact us at Advantage Grand Canyon for all your Grand Canyon rafting trip needs. From one-day to two-week trips, we cover them all!