The Red Rock Canyon is such a unique location with a scenic drive that it's definitely on the bucket list of any geography enthusiast. This is located in Southern Nevada, Las Vegas, and it's one of the best places for adventurers to go experience and witness unique geographical formations like Grand Canyon National Park, Colorado River, Redwall Cavern and Marble Canyon in Arizona. Are you planning on taking a trip to the Red Rock Canyon any time soon? Then you must read this guide to help you out!
Where In Las Vegas Is The Red Rock Located?
The exact address of this hiking spot is 1000 Scenic Loop Drive, Las Vegas, Nevada, United States. You can travel to Nevada by driving or by flying in.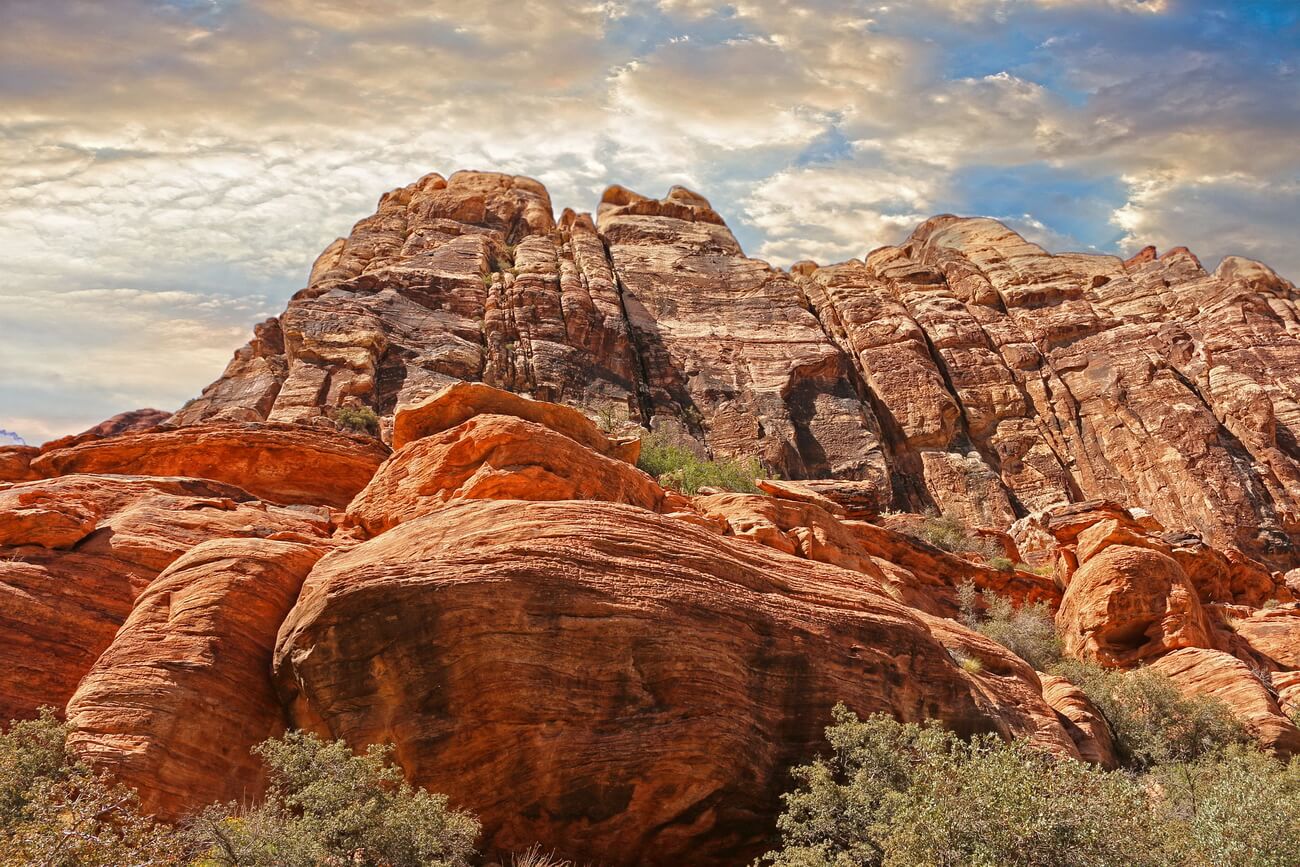 Top Viewpoints At Red Rock Canyon National Conservation Area
These viewpoints are the ones you must see when you go to the Red Rock Canyon National Conservation Area in Las Vegas.
Turtlehead Peak
This has one of the most impressive views in the area, perfect for any hiker or rock climbers due to Turtlehead Peak's impressive elevation gain. You will need to endure 4.6 miles of an upward trail but the view at the top makes the trail all worth it. Make sure to pack a windbreaker to protect yourself from the harsh winds.
At the top, you will have a clear view of the Las Vegas Strip, the desert, Lake Mead, and more.
North Peak
This particular location on the Red Rock requires a very long hike - 11.8 miles to be exact. You can skip the hike and drive the North Peak trail with an all-terrain vehicle, and then just finish off with a short hike, as some people do.
This is definitely one of the more challenging hikes because of the elevation and the winding trail, but it's definitely worth it. This point overlooks Rocky Gap Road, Bridge Mountain, and many more scenic spots such as red rock formations and sandstone formations.
Calico Hills
This location can be accessed both within and outside the Red Rock Canyon National Conservation Area. Calico Hills is named as such because of the "calico"-colored hills and rock formations. This is because of the Aztec sandstone composition that yields and orange-red and tan-colored mountain range. This is not too far from the visitor center so it's pretty accessible to start with.
This trail can be accessed from different points. You can try to go through the visitor center or the Sandstone Quarry.
The entire hike on this grand canyon is about 6 miles, but you can always go for the shorter hike which is only 2 miles.
If you want a better view, check out the Calico 1 and Calico II viewing deck so that you can see more sand dunes, Calico tanks trail, the Willow Spring Loop, and other gorgeous trails surround the grand canyon. These paths also have a parking area at the entrance. If you want a memorable hike with a recreation area, loop road, and reasonable elevation gain, Calico Hills is the destination to aim for.
This park is full of red rock canyon formations that are truly remarkable. Immerse yourself in these redstone structures.
High Point Overlook
Looking for another scenic hike in Nevada, Las Vegas near the grand canyon? Try the High Point Overlook. This is perfect for hikers and people who like mountain biking with scenic views.
This location has stellar reviews from tourists and trailheads because of the gorgeous winding roads, clean area, accessibility to the canyon, hiking trail opportunities, and countless other things to do outdoors.
This can be a bit challenging compared to most hiking trails because the said point is situated up to 4000 feet above sea level. Whatever happens, a trip or drive to this location will surely be memorable. Make sure to take lots of photos to commemorate this spot.
Pine Creek Canyon
This location got its name because it literally follows a creek. This offers one of the most gorgeous outdoor scenes, with lush and green scenery with tons of pine trees in the conservation area. It has a reasonable elevation gain that makes it enjoyable to hike, even for beginners.
Pin Creek Canyon is a special location because it's a nice break from the usual desert views with sand dunes and very sunny hike pathways. This special park has a willow spring picnic area, some picnic tables, and other outdoors attractions. The road to the picnic tables has sandstone stairs that will surely look great in photos. It is also an excellent pathway for hiking.
Mount Wilson
This is technically not part of the general conservation area but it is still the highest peak among the Spring Mountains which are located on the Red Rock Canyon. This is actually so tall that it reaches 7,000 feet high. Such an elevation gain will surely make hikes more challenging so if you want some extreme outdoors hike, go for this canyon trip.
Don't worry because not all the hike trails are difficult. There are some for newbies or the people who don't know where to start but they just want to do nature things in a canyon. There is also an extreme trail for the experts. You may even try a loop trail in the conservation area.
The view from the top of Mount Wilson will make all the hiking worth it.
First Creek Canyon
Looking for a short and easy loop trail? Go for the First Creek Canyon trails! The hike only takes up to 2 hours and at the end of the pathway, you will witness a stunning grotto and the most beautiful little waterfall.
This is actually located just outside of the Red Rock Canyon National Conservation Area, near the Spring Mountain Ranch State Park. It is definitely one of the shorter trails as it only measures 1.9 miles. It got its name because it follows a creek. Some parts of the trail may have dried streams but most of the area should have a light flow.
The highlight of this trail is the end of the hike where you witness a small waterfall that emerges from a boulder-filled area. The views along the hike are stunning. The waterfall area of the canyon has various vegetation and greenery, and some tend to be overgrown. There's also a Willow Springs picnic area where you can enjoy your food.
Ice Box Canyon
The Ice Box Canyon is a unique section of the Red Rock Canyon National Conservation Area. It got its name from the cool water and low level of sunlight which keeps it cold. This is one of those hiking trails that is best traversed during the heat of the summer so that you can enjoy the cool breeze and not overheat.
This has a reasonable elevation gain and a variation of hikes for all types of adventurers. The general trail stretches for an hour long and you get scenic views along the way. At the end of the trail you'll see some seasonal waterfalls particularly during the months of December to April.
As a pro tip, it's important to dress in layers as you go on this trail. The elevation gain makes it a cold journey so dressing in layers will help keep you warm. You may also just remove some of your clothes if you feel the need to cool yourself down.
Petrogylph Wall
This is yet another exciting trail that is short yet extremely enjoyable. It is located in the Red Rock Canyon within the Willow Springs Picnic Area. This is the parking area and where the park entrance is located. Simply follow the trail from this location and proceed for 30 minutes until you reach the Petrogylph Wall.
This is one of the most unique hikes because of its historical trail. The petrogylphs on the wall are said to be 800 years old. You can secure a trip to this canyon and see the historical rock art yourself by consulting the Southern Nevada Conservancy.
Keystone Thrust Trail
This feature's one of the most important geological formations in the Red Rock Canyon - the Keystone Thrust. This is the mark left behind by the collion of the North American and Pacific Continental plates.
The trail will start at the White Rock Parking Lot and as you follow along, you will circle back to where you started. The trail is technically classified as easy but the 400-feet elevation may be challenging for some. The path gradually goes upward until you reach a saddle, and then you will see a gorgeous red rock ridge. Just follow the trail into a high red rock ridge where it will end. Every turn along the trail gives you a new and unique view of the red rock canyon which is what makes this so unique. You can even see the Calico Hills park from a distance.
This is one of the most enjoyable and easiest paths in Las Vegas. You start on a 2.2-mile journey that is roundtrip and gives you a holistic experience of the Red Rock Canyon.
Moenkopi Loop
This is one of the best desert hikes because of its relaxed pace and scenic trail. There are parking areas at the beginning of this canyon journey so that you can leave your vehicles behind and walk the rest on foot.
The Moenkopi Loop is a special trail because it's one of the historical spots in the entire park. Along the two-mile hike, you'll witness fossilized remains from centuries ago, perfectly preserves in the geological formations.
You will also see a smattering of unique flora and fauna that you can only witness in the desert. The Moenkopi Loop closely follows a limestone ridge. Red rock canyon formations can be seen from a distance.
White Rock - Willow Spring Loop Trail
This is another striking location in the red rock canyon because of the diverse mix of scenery and trails. You will see deserts, cacti, pictographs, a bridge mountain, and even wildlife. The White Rock Willow Spring Loop trail also features the La Madre Spring trail. However, this detour will turn your two-mile hike into a 6-mile one but trust me when I say that the views make it worth it.
This trail begins in the parking area and it loops behind the White Rock Mountain. You will go through a dense forest of junipers and pines. It's very nice and gorgeous. Savor this section because it's one part where you are sheltered and cool before you experience the elevation if you to decide to go for the spring. You also have the option to follow the main trail where you will be brought back to picnic areas..
Where Can You Stay Near The Red Rock Canyon?
Don't worry, because the area around the Red Rock Canyon in Las Vegas has so many lodging options! The vast range will give you budget flexibility. These hotels are also very near to the aforementioned spots in Las Vegas so all it will take is a short ride and then you'll be ready to hike.
Luxury Hotels
Las Vegas is known for its fair share of luxury hotels. One of the most popular ones is the Red Rock Resort & Spa which is only 5 minutes away from the park. Hotels like this offer luxurious rooms, mega suites, outdoor pool complex, a diverse dining experience, and more. As a bonus, you're only 30 minutes away from the ever-famous Las Vegas Strip!
Mid-Range Hotels
These hotels are about 5 minutes away from the Strip but 30 minutes away from the Canyon. These offer spacious rooms and lovely villas for everyone.
Some of the most famous mid-range hotels include Marriott's Grand Chateau, Staybridge Suites Las Vegas, and The LINQ Hotel.
Budget Hotels
There are plenty of budget hotels that are located about 10 minutes away from the Red Rock Canyon. Check out popular options like La Quinta Inn & Suites.
Pro Tip For Beginner Hikers
The best part about hiking the Red Rock is that you have a myriad of trails you can choose from. All types of adventurers are welcome, from beginners to experts. Here are some tips that you can apply before you set out on your hiking journey.
Invest In The Right Equipment
The hiking equipment that you wear will greatly impact your comfort level and performance. Invest in good quality hiking shoes that will keep your feet free from callouses and strain despite the long trails. Check out countless options of hiking shoes online. Be wary of affiliate links because that means the person who endorsed the product may get a portion from the sales. Take your time comparing your options and reading up on the reviews.
Research The Trails
Make sure to assess your skill level before going on hikes in the park. You may be tempted to go to a specific site but if the trail's length and elevation are too much for your skill level, then you'll end up not enjoying yourself. It's best to go for something you can perfectly handle. Each park is usually marked by the difficulty level so only go for what you can handle.
Follow The Local Rules And Guidelines
Going to the Red Rock Canyon is more than just a tourist activity. It's a chance to appreciate nature in its full glory. Out of respect to nature's beauty, make sure to follow the local guidelines. You can usually see these rules at the entrance or printed on the informative brochures handed out to tourists.
Pay the entry fee which is often used for the maintenance of the park. Take nothing but pictures and leave nothing but footprints. Do not litter and do not go into restricted areas. Always keep an eye on the guide and do not stray far from your tour group. For further information or assistance, feel free to contact us