If you are planning to go whitewater rafting in 2016, there is no better place to do it than on the mighty Colorado River that cuts through the magnificent Grand Canyon. With more than a thousand whitewater rapids that are spread throughout the 280 miles of the Colorado, it is simply a must to get one of the select few licensed by the National Park Service to give you 2016?s top whitewater rafting trips.
Why Colorado River Trips?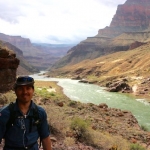 The 3 to 5 day shorter trips will continue to top the ranking for many Colorado River enthusiasts. This is just perfect for that quick getaway to America's southwest. It combines rafting and hiking through some of Grand Canyon?s great sections such as the Upper Canyon, the Western Canyon, and the Lower Canyon. Keep in mind that upper and lower canyon trips require a strenuous 9.5 mile hike either ascending or descending the bright angel trail at start or end. Not for everyone, but a fantastic experience for those in good shape and ready for a challenge! The Lengthy Trips In order for you to really enjoy the scenic beauty of the Grand Canyon, opting for the full canyon trip which can be seen in 6-8 days in a motor raft or 12- or 18- day paddle raft, oar raft, dory boat, or hybrid whitewater rafting trip. Starting your journey on Lees Ferry on Lake Powell just north of Marble Canyon, you will coast through the heart of the canyon seeing both upper and lower portions including the mid-way point or Phantom ranch and Bright Angel Beach 88 miles down river. As you continue on, you'll have a choice (per the specific outfitter's itinerary and logistics) to exit either via helicopter at Whitmore wash (river mile 188), Hualapai Indian land's Diamond Creek exit and roadway (river mile 225) or Pearce Ferry on Lake Mead. Many whitewater river outfitters provide both non-motorized and motorized rafts for these trips and are generally considered one of the top-selling trips in the entire Grand Canyon National Park. The Week-long Trip Many tourists and first-time whitewater river rafters will find week-long trips particularly excellent. Any of the 6- to 9- day trips can take the entire length of the Grand Canyon section of the Colorado or just a portion of it. Either way, rafters are guaranteed to have the time of their lives. Options for this trip length include 6-7 day upper canyon or 7-9 day non-motor raft trips which also require a 9.5 mile hike via the bright angel trail, or as previously mentioned the most popular raft trip compared to all others: The Full Grand Canyon Motor Raft Trip. [iframe id="https://www.youtube.com/embed/X-8ivBVrZak?rel=0" align="center" mode="normal" autoplay="no" aspect_ratio="16:9" maxwidth="700" grow="no"] There are 16 licensed outfitters serving the Colorado River in the Grand Canyon. All of them have slightly different offerings, including where the trip meets, launches, takes out and returns you. Additionally, they offer different raft types and variations of rafts when compared from one outfitter to the next. Advantage Grand Canyon will not only present you with an unbiased availability report of the different itineraries, but also coordinate your booking at no cost to you. You can contact us to present you with options, or search yourself on our trip finder which lists all trips for your review.
---