Going on a rafting trip can be one of the greatest adventures you will ever have. We at Advantage Grand Canyon help clients book their Grand Canyon rafting adventure trips which typically needs to be done several months (even up to a year) in advance. If this is your first rafting trip then we know how anxious you might be trying to get prepared. However, if you pack your things well ahead of time, you will be able to maximize all the wonderful opportunities that abound in the great stretch of the Colorado River through the Grand Canyon.
How to Pack For A Rafting Trip?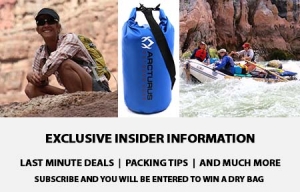 [iframe id="https://www.youtube.com/embed/T__dO5ymuTE?rel=0" align="center" mode="normal" autoplay="no" aspect_ratio="16:9" maxwidth="700" grow="no"] How many days will you be spending on your trip? Will you be extending your trip to include visiting other attractions before or after your river trip? Nevertheless, when packing for a rafting trip, you have to determine how many days you will be spending on the river. For example, some clients reserve a 3-5 day short trip or even longer 6 to 9-day trips or the ultimate in rafting adventure, the 12-18 days. Essentially, the longer your trip, the more things you may have to pack. If you take a 1-day trip, then there is technically nothing to pack except perhaps for your change of clothes, camera, and your other personal effects. It is important to be clear on what you are going to do on this trip. For example, the multi-day trips are a combination of a rafting trip and hiking and camping. In such cases, you will want to pack clothes and items specifically for hiking and camping as well as for rafting. Unless, of course, it is perfectly alright for you to be in the same set of clothes whether you are on the river or off it. Once you are clear with these details, then you can start packing your things. Generally, you will need items like a good pair of river shoes, lotion, extra plastic bags to be used for wet clothes, hiking shoes, sarong, and a rain jacket to be used for weather or just going through the rapids. Want more details? Check out this rafting trip packing list. A full packing list will be provided by the outfitter.
---