How to Get Cheap Deals for the Grand Canyon Skywalk Tour?
The Grand Canyon is arguably one of the most famous natural attractions in Arizona. Although there are a ton of activities and attractions in the Canyon, Skywalk is among the most famous for sure. Prices for the Grand Canyon skywalk tour are all over the place, but most of them are ridiculously high. Deals do exist; here are some tips on how you can get them:

1. Insider taking an all inclusive Grand Canyon Skywalk tour. There are three types of tours: bus, airplane and helicopter. The helicopter is the most expensive while the bus is the cheapest.

2. Do not purchase from third parties. You will find yourself paying more if you buy from an online broker, travel agent or a hotel concierge. In this case, you should purchase direct from the tour operator.

3. Book Online. Booking online makes the service and transaction fees cheaper for the tour operator and this results in lower tour prices for you.

4. Book in advance. Buying a high season ticket during low season will always save you money. Below you will find some of the best online deals for the Grand Canyon Skywalk tours: Bus The Grand Canyon coaches lead the pack. It is an all inclusive west rim bus tour that costs about $130. Transport is on the newest luxury buses and it includes BBQ lunch, skywalk and the travel time is about 2.5 to 3 hours. This will give you a lot of time for sightseeing. Helicopter Papilon helicopters are among the best when it comes to the Grand Canyon Skywalk tour. Their prices average $375 per person, whereas others charge $469 per person. The flight time is 45 minutes and you also get rim top sightseeing and BBQ lunch. Airplane The clear winner here is the Grand Canyon Airlines. Grand canyon skywalk cost is ? $200 (2017 pricing) and uses the award winning custom build airplane known as Vistaliner, an aircraft specifically designed for sightseeing. Its flight time is 25 minutes. The Grand Canyon Skywalk is a joint venture between the Hualapai Indians and a Las Vegas investor. It extends 70 feet over the rim?s edge suspending you more than 4,000 feet above the famous Colorado River. This structure can hold up to 120 people at a time and there is no limit to how long one can stay on the bridge. The Skywalk is shaped like a horse shoe deck and is made of 46 iron glass panels; each panel costs $250K. To protect these panels from scratches, cameras, cell phones and any other personal electronics are not allowed. However, protective shoe covers made of fabric are provided and required, and stationary cameras and photographers are there to take your picture. If you are taking a trip to Las Vegas, then you should make the Grand Canyon Skywalk a must see site. It is situated just 120 miles east of Las Vegas and is easily reachable by bus, airplane or helicopter. There is a tour for every budget. Remember, to get the best deals, you should book directly from the website, then prepare yourself for an experience of a lifetime. While enjoying the Grand Canyon skywalk tour, you may also consider joining a Grand Canyon rafting trip.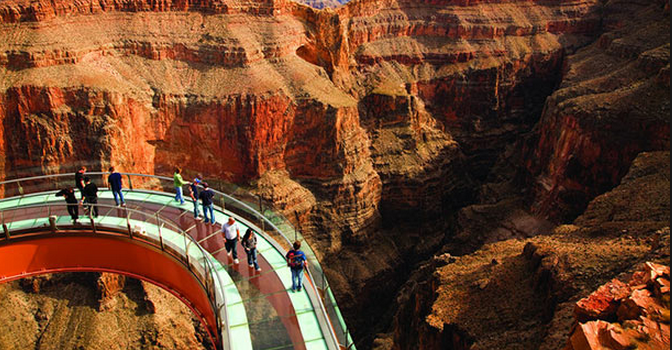 ---