Yellowstone National Park and Grand Teton are two of the most popular attractions in the United States and the world. With breathtaking scenery and a variety of activities available to visitors, it is truly a destination that belongs on the bucket list of every traveler and adventurer.
However, with so much to do in these beautiful areas and within Yellowstone National Parks, it can be difficult to narrow down which attractions are on your must-have list and which ones can wait until another time. That's not to say that you can't do it all, if you plan right!
In this guide to the best of Yellowstone and Grand Teton, we are going to show you some of the top attractions available to you and give you the information that you need to explore Yellowstone and Grand Teton National Parks with purpose, direction, and organization.
Read along to start learning about these attractions and learn how to best enjoy them, what order to visit them in, and even discover some hidden secrets to get the most out of your trip.
Planning is Everything!
The first thing that you need to know when you begin to plan your trip to Grand Teton National Park or Yellowstone National Park is that preparation is the key to a successful and enjoyable trip. Without preparation, you may find yourself scrambling to put together your agenda, gather supplies, and manage your time there. This is all a recipe for disaster, and could result in not being able to achieve all the things that you want to achieve while you are there.
We don't want you to waste time on your trip or suffer at the hands of disorganization. That is why we are presenting these options for your trip to Grand Teton and Yellowstone. When you are able to plan out your destinations ahead of time, you can ensure that you maximize your time in these scenic locations and see everything that you'd like to see.
In addition to consulting with our list of the top destination day trips around Grand Teton and Yellowstone, make sure that you pack the necessary supplies and do the correct planning ahead of time so that you can cross all the items off of your bucket list.
Top Destination Day Trips Around Yellowstone and Grand Teton
To help you on your journey of getting the most out of your trips to Grand Teton National Park and Yellowstone National Park, we have compiled a list of the top destinations in the region. Some of these destinations will be in Yellowstone, while others will be in Grand Teton. They are separated out for your convenience to allow you to pursue trips that are within your reach and within your plan. Without further delay, here are some of the most amazing day trips that you can take when you are in the region of these beautiful national parks.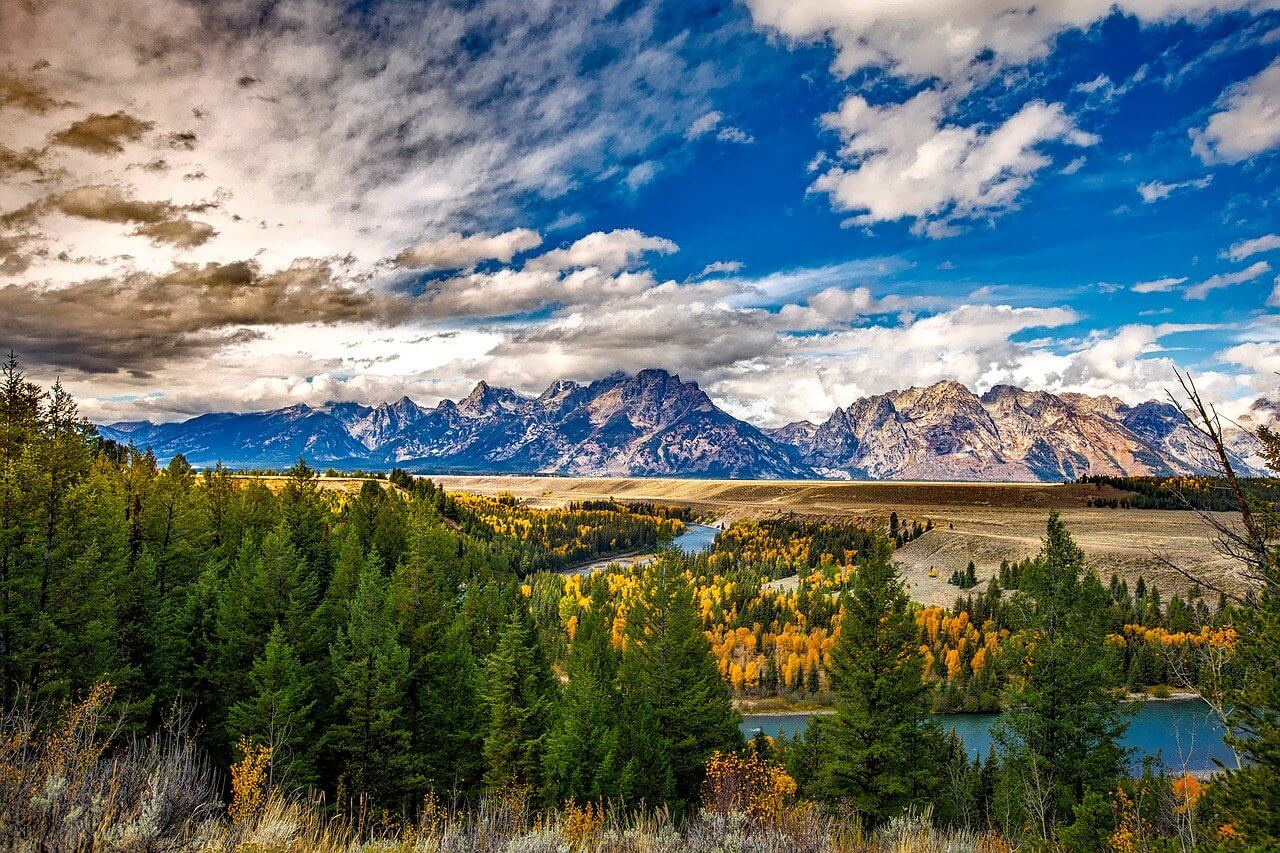 Grand Teton National Park Day Trips
To begin, we are going to start with destinations that are within Grand Teton National Park. These attractions are easily accessible from Grand Teton National Park and each of them offer a unique perspective and opportunity to see more of Grand Teton National Parks' beautiful sights. With plenty to do within the park, you might find yourself spending days doing the various activities that are available there. Here are some of the top attractions within Grand Teton National Parks' boundaries.
Taggart & Bradley Lakes
The first destination that we want to cover is the Taggart & Bradley Lakes. After stopping at the Craig Thomas Discovery & Visitor Center and following Teton Park Road, you'll be brought to the Taggart Lake Trailhead. This is the beginning of a nearly 5 mile trek that features stunning sites, slightly challenging terrain, and unmatched views of snow-capped peaks halfway through. In addition, you'll be able to take in the lake air as your reward. And, if you're feeling extra adventurous, take a swim in the pristine glacial lakes to get the full experience.
Snake River
As far as scenic overlooks go, the Snake River Overlook is one of the best options available for those that want a relaxing and scenic trip that the whole family can come on. The great thing about the Overlook is that it is not too far away from Dornan's Pizza, which is a local favorite for fresh and tasty pizza and pasta. You can grab some dinner at Dornan's and then take the short drive to the Snake River Overlook. Here, you can take in the beautiful views of the famous Snake River and relax after a busy and rewarding day.
Colter Bay Kayaking
Grand Teton is beautiful basically regardless of where you are viewing it from, but one of the best views isn't from the road--but from the water. Take a 15 minute drive from Jackson Hole down the road to Colter Bay Marina. Here, you can rent kayaks and enjoy a morning paddle on Jackson Lake. This beautiful adventure is a mere drive down the road from Jackson Hole and provides enough scenery to keep you occupied for half a day or more. You're encouraged to pack a lunch on this Grand Teton Colter Bay adventure and find a picnic spot with the family. After you dismount your kayak, try a short 3-mile jaunt on the Swan Lake Loop. There is plenty of wildlife here, so be sure to take it all in--but also be cautious.
Jackson Hole Rodeo
If you happen to be staying in Jackson Hole during a Wednesday or Saturday throughout the Summer, then one of the attractions that you must check out is the Jackson Hole Rodeo. This live rodeo provides you with a look into the real cowboy experience and is the essence of what the region is all about. Luckily, the Jackson Hole Rodeo is within walking distance from several attractions and restaurants, including the Snake River Brewery, a tasty spot with options for all.
Rendezvous Mountain
Many people start off their Grand Teton adventure by exploring the valley and all of the beautiful sights that are available to see from down low. However, as the days go on, you're going to be naturally drawn to try and see the park from a high vantage point. When that is the case, Rendezvous Mountain is the right choice for you. There are a variety of trails that you can take up Rendezvous Mountain to give you a spectacular view of the beauty that Grand Teton has to offer.
String Lake Swimming
If you're looking for a refreshing place to take a swim in Grand Teton, a great place to do so is String Lake. String Lake is a little-known lake with refreshing and pristine water that is great for an afternoon swim. String Lake is easily accessible and can be found after a short hike on the trail. A picnic lunch wouldn't be a bad idea to bring to the lake.
Grand Teton National Park Places to Eat
If you want to make the most of your trip and ensure that everyone has a good time, then you need to make sure that everyone is well-fed. When you're in a location that you've never been in before, it can be hard to know where to eat and take a rest. With our help, you'll be able to find places to eat that the whole family will love and you'll be the hero of the day. Read on to discover the source of some of the best meals in the region.
Dornan's Pizza & Pasta
If you're in the area of the visitors' center, then one of the must-stop places to eat is Dornan's Pizza & Pasta. This long-standing fan favorite is not far from the Moose Junction. It features tasty options that are family-friendly and a great atmosphere that will once again put you in the mood for adventure and experiences. Perhaps you want to take a scenic drive while you enjoy your pizza. One of the greatest things to do in this instance is to continue on to the Snake River Scenic Overlook to end the day, which is not too far away.
Snake River Brewery
After a great day in Grand Teton, it's time to get some grub. Head on over to the Snake River Brewery, located conveniently in Jackson Hole. This is a bar/grill that has some options for everyone and it's seen by the locals as a staple in the town. There is plenty of entertainment to be had afterwards.
Pearl Street Bagels
If you are located near Jackson Hole or staying there for the evening, one of the most well-known and favored places for breakfast the next morning is Pearl Street Bagels. This charming little bakery has bagels, breakfast, and coffee and provides the perfect fuel that you need before the short journey into Grand Teton. It's conveniently located near many of the lodging suggestions that we provided!
Moo's Gourmet Ice Cream
Along the way of your journey to Grand Teton and the various beautiful and scenic destinations that surround the national park, one place that you must stop at is Moo's Gourmet Ice Cream. Whether you just got done with a lengthy hike or a family dinner at one of the many tasty eateries, Moo's is the perfect way to end the day. It's been around for decades and in that time, it has certainly earned its reputation as one of the best ice cream places in the region. If you want to gain some access to some great ice cream while on your road trip, this is the place to go!
Corbett's Cabin
Craving a waffle? Before your afternoon at at the lake, consider stopping by a very popular waffle place in Corbett's Cabin. These famed waffles are prefect energy fuel for a day in Grand Teton park. A short drive down the road from String Lake, it makes perfect sense to combine these two excursions.
Silver Dollar Bar & Grill
Are you looking for a great place to unwind and get some bar food and a couple of drinks after a busy day in Grand Teton? If so, the Silver Dollar Bar & Grill might be the right choice for you. This bar & grill is a hole-in-the-wall location for those looking for some great bar food to cap off the day. Before 7:30pm, it is a perfect place to bring the whole family. After that, it turns into a very active musical venue where adults will have a great time. Be sure to add the Silver Dollar Bar & Grill to your trip itinerary.
Grand Teton National Park Places to Stay
On your journey to Grand Teton Park, one of the most crucial steps of preparation that you will want to take is to find a great place in Grand Teton to stay. Good accommodations can make or break a trip and in your situation, you most certainly want your accommodations to have a positive impact, not a negative one! If you're ready to find great accommodations for your Grand Teton trip, then you're in the right place. We have collected a variety of accommodations that you can use to keep you and your family comfortable while also making the trip memorable and staying close to some of the most stunning attractions in Grand Teton.
Jackson Hole Lodge
Looking for a place to crash after flying in from Jackson Hole Airport? If so, the Jackson Hole Lodge is your perfect destination. This hole, located in the center of Jackson Hole, is the perfect place to settle down for the night and also to launch your various expeditions to all of the attractions that the area has to offer. The Jackson Hole Lodge is truly a place of style and comfort as you can unwind from the day in Grand Teton or enjoy your time in a nice, air-conditioned and relaxing environment in the middle of Jackson Hole. In addition, the Jackson Hole Lodge features a pool, making it one of the most family friendly accommodations in the area and a place that your family will love.
Yellowstone National Parks Day Trips
Though Grand Teton is amazing and beautiful, it is Yellowstone that really steals the show for many people that go on a trip to national parks. Yellowstone is a huge park with many famous attractions such as Old Faithful and the Grand Canyon. In addition, there are a number of single day attractions and activities that you can do such as kayaking, hiking, and others.
With so many attractions and activities being available in Yellowstone, it can quickly become overwhelming. We're here to help you get the most out of your trip to national parks and Yellowstone. Here are some of the best things to do in Yellowstone.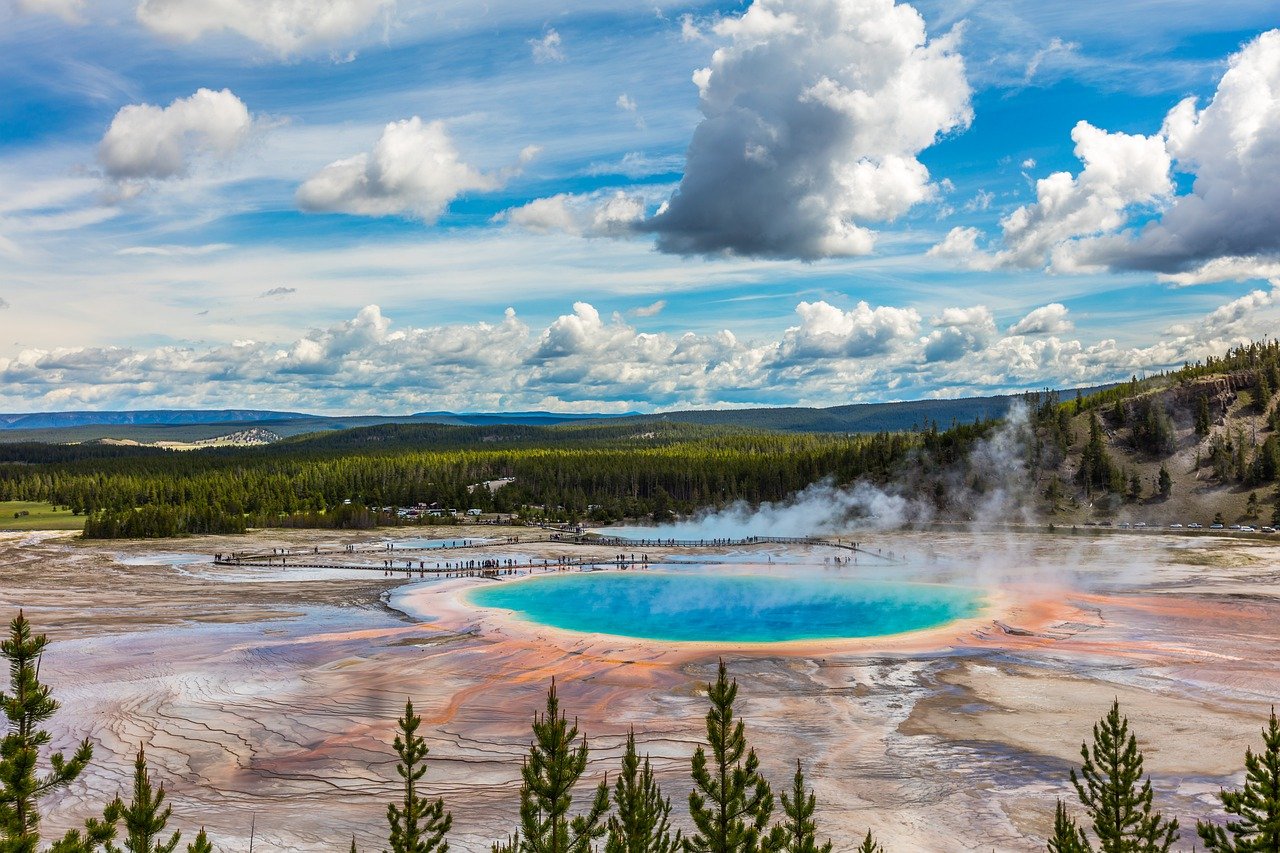 Old Faithful
You've probably heard of the Old Faithful geyser before. Old Faithful is one of the most famous natural attractions in the world and people come from all around the globe to see Old Faithful in all of its glory. Since it is world-famous, there are understandably many people waiting to see Old Faithful each and every day. However, there is a way to beat the crowd and have the Old Faithful geyser more to yourself. If you arrive before the crowds and bus tours arrive, you'll be able to have a uniquely alone experience with Old Faithful.
The main thing that you need to know when it comes to timing of Old Faithful is that it erupts every 35 to 120 minutes. Make sure that you grab a good spot with a good view ahead of time. If you are going to visit Old Faithful in Yellowstone, you should plan for at least a couple of hours to be there. There are more things to do than just Old Faithful in the area, including the Upper Geyser Basin. In addition, the Castle Geyser has beautiful and long eruptions that even rival that of Old Faithful.
Mystic Falls
If you're looking for water falls on your trip to the national parks, then Mystic Falls is a must-see. Mystic Falls is a very popular, but beautiful location. You shouldn't be intimidated by the busy parking lots--it's one of the most beautiful sights to see in Yellowstone. Hike about a half mile down the road and you'll be able to see some geysers and springs along the trail. However, if you take another 1-mile hike down the road, you'll be able to capture sight of Mystic Falls, a majestic 70-foot set of waterfalls. The great thing about Mystic Falls within Yellowstone is that it offers road options for everyone and is family friendly. The small road trip to the falls is definitely worth it!
Prismatic Spring
If you are going to be stopping at Mystic Falls, you might as well also stop at the Grand Prismatic Spring. It's only a ways down the road from Mystic Falls and allows you to capture even more still nature and beautiful springs. The Prismatic Spring is one of the few hidden gems at Yellowstone and is just down the road from Mystic Falls, making it the perfect one-two punch! Many also cite it as a great location to have a human moment and have some time to reflect.
Lamar Valley
If you are the type of person that wants to get off the beaten road and see some wildlife, then Lamar Valley is the perfect place. Lamar Valley is one of the most unique experiences in Yellowstone and it allows you to connect with the nature that truly sets it apart from all the rest. In Lamar Valley, you'll be able to see various animals such as wolves and grizzles. In addition, you can see wild herds of elk and bison. People flock to Yellowstone, Grand Teton, and the surrounding areas from around the world to see the amazing wildlife that the area has to offer.
Tower Falls
After your trip to Lamar Valley in Yellowstone, try checking out Tower Fall. Tower Fall is only two miles down the road, hardly a long road trip, from Lamar Valley and the Roosevelt Lodge within Lamar Valley. You can park near the overlook and enjoy great views of hot springs, waterfalls and the valley below. Otherwise, take a half-mile hike to the base of the falls. Many people use this area to have a family picnic lodge before getting back on the road or venturing on to another attraction.
Mount Washburn
If you are a hiker and looking to tackle some of the greatest hiking spots within Yellowstone, then we have the perfect recommendation for you. Anyone that has hiked in Yellowstone will tell you that Mount Washburn is worth the road trip alone for those that are avid hikers. Mount Washburn has two possible ways up, with the one from the Dunravan Pass Picnic Area being the most shaded and most comfortable. It's a bit of a challenging hike, but nothing that the average person won't be able to tackle. Once you're at the top, you'll no longer wonder why people decide to make the journey up. It features breathtaking views of the Grand Canyon of Yellowstone, Hayden Valley, and Yellowstone Lake. In addition, you might even see the Tetons.
Norris Geyser Basin
For any road trip to Yellowstone, it's important that a trip to the Norris Geyser Basin is included. The Norris Geyser Basin consists of the Midway Geyser Basin, Upper Geyser Basin, and the Steamboat Geyser. This is a geothermal area that features boardwalks for easy access. There are a wide variety of springs, geysers, and pools to see in the Midway Geyser Basin and the Upper Geyser Basin. You'll even get to see the Steamboat Geyser, one of the tallest geysers in the world and one of the main attractions within Yellowstone. The Upper Geyser Basin contains even more geysers, hot springs, and natural phenomenon to explore. If you want to get the full experience of geysers in the park, then going to see a geyser basin should be on your day 1 itinerary. The Norris Geyser Basin can fill all of these needs.
Mammoth Hot Springs
If you've ever thought about visiting Yellowstone, Grand Teton, or the surrounding areas, then you've probably thought about putting Mammoth Hot Springs on your itinerary. Mammoth Hot Springs is notoriously beautiful and spiritual. It allows you the opportunity to soak in natural hot springs formed by the earth. Many refer to the Mammoth Hot Springs as a boiling river. These natural hot tubs are relaxing and cleansing. To get to Mammoth Hot Springs, you need only drive a couple of miles towards the north entrance of the park. make sure that you are oriented towards the north entrance and search for the parking area, which is located near the 45th parallel. Once you have arrived, you will have to take a half-mile hike to Mammoth Hot Springs. If you're arriving after having climbed Mount Washburn, you'll be happy to soak in the water and relieve your muscles. Mammoth Hot Springs will always be one of the most intriguing experiences in Yellowstone along with Grand Prismatic Spring, the Grand Canyon, and others. Mammoth Hot Springs is similar to Grand Prismatic Spring in what it has to offer.
Grand Canyon of the Yellowstone
The Grand Canyon of Yellowstone is one of the most famous and beautiful sites in the world. People from all around the country road trip to see the Grand Canyon every year and take in the near spiritual experience that it has come to be. Yellowstone boasts this millions-year old formation as one of the most amazing experiences that the park has to offer. Any trip to Yellowstone, Grand Teton, and the surrounding areas should have the Grand Canyon on the itinerary. The Grand Canyon is friendly to everyone, even kids and has a visitor center to help provide you with information about this ancient formation. When you travel to Yellowstone, you won't have to exclusively experience the Grand Canyon through National Geographic magazines any longer. You'll be in the presence of greatness. Make sure to capitalize on all the photo ops and take it all in!
Brink of the Lower Falls Trail
For avid hikers that are in the Canyon of the Yellowstone, it is highly recommended that you check out the Brink of the Lower Falls Trail. This trail has been coveted as one of the greatest trails to hike in the Canyon of the Yellowstone due to its calm and cool vibe. This trail is a 1.5 mile trail that is pretty easy to do. If you arrive there before about 8:00am, you will avoid the foot traffic and you may even have the trail all to yourself. Once you are there, take a quick hike over to the south rim of the Canyon of the Yellowstone to get a great view from Artist Point. Artist Point is famed for the vantage point that it offers those that visit. It should definitely be on your trip itinerary if you are going to Yellowstone or will be in the Salt Lake City area. It can be an easy, one day trip.
Yellowstone Lake Kayaking
For avid kayakers, there are plenty of options on Yellowstone Lake. Yellowstone Lake represents some of the finest kayaking experiences in the Yellowstone Grand Teton parks. It rivals the experience even of Jackson Lake, known for its serenity and views. On your Yellowstone Lake kayaking trip, you'll be able to explore geysers, hot springs, and other parts of the West Thumb Geyser Basin. The West Thumb Geyser Basin has trips that depart several times a day, making it easy for you to find one that works for you, even if you only have one day in the area. One of the favorite things to do by visitors is to have a picnic lunch on the shores of the Yellowstone River.
Yellowstone Places to Eat
One of the most important thing to provide for families when you are on a trip to Yellowstone is great places to eat and have family meals together. However, with so many potential places to choose from (there are hundreds of restaurants in the area), it is easy to quickly become overwhelmed. Without being from the area, how could you ever know which places are the best for you and your family?
To provide you with the information that you need to make the right decision for you, we have gathered some of the most reputable and best places to eat year Yellowstone and combined them into a helpful rundown so that you will always have a place to grab some grub whether you are taking a day trip through Yellowstone, visiting Old Faithful, or have a quick journey to Mammoth Hot Springs. Regardless of the length or target or your trip, this guide will provide you with some helpful information to find a place to eat.
While Yellowstone and Grand Teton are known as some of the most beautiful places in the world and have gained notoriety for their nature, they also have several great places to eat and are some of the best national parks when it comes to cuisine.
Cowboy Cookout
If you're looking for a truly unique experience, the Old West Dinner Cookout is right for you. This experience involves hopping on a horse for a couple of hours to Yancy's Hole. Here, you'll grab some authentic cowboy food and sit around the campfire with your companions. This experience provides some real insight into what it would have been like for early pioneers that were in the Yellowstone, Grand Teton National Park region. You should block out a full one day for this and Mammoth Hot Springs. Along the way, you can talk about the trip with your family or companion. This is seen as one of the most unique and awesome experiences that are available in Yellowstone.
Lake Yellowstone Hotel
If you're looking for a room and a nice dinner, then the Lake Yellowstone Hotel is a great option. It was first opened in 1891 and has been serving travelers to the area for over 130 years. After you've been exploring all day, head back to the hotel for a great dinner before one last excursion to Hayden Valley, which is a relaxing location full of bison. Lake Yellowstone Hotel is conveniently located near Hayden Valley.
Old Faithful Inn
The Old Faithful Inn is a great place to grab some lunch when you are near Mystic Falls. Having been around for decades, it has seen time come and go as visitors come to marvel at the falls. It's also near Biscuit Basin, making for a great rest-point in the middle of your day.
Yellowstone National Park Places to Stay
If you truly want to make your visit to Yellowstone and Grand Teton nation parks a success, then you will need to have access to the best places to stay in the area. Having the right lodging and accommodations can make all the difference and ensure that you and your family have a good time in Yellowstone. Your accommodations will serve as the launching point for all of your adventures.
With so many places to stay in and around Yellowstone and Grand Teton national parks, it can be a challenge to find a good place to lodge. We have compiled some of the most well-known and reputable lodging accommodations around Yellowstone that are also conveniently located around Yellowstone and Grand Teton attractions.
Follow this guidance to find the national parks' best places to stay and hotels that will only add to your experience while touring Yellowstone and Teton national parks.
Canyon Lodge & Cabins
Canyon Lodge & Cabins is one of the most revered places to sty for those that are visiting Yellowstone. it is located just down the road from Grand Prismatic Spring and Mystic Falls, making it the ideal place to stay if you are down that way. After a long road trip, you and your family want to settle down somewhere that feels like home. In addition to its convenient location, Canyon Lodge & Cabins has recently renovated many of their rooms. You'll have to book out about 6 months in advance to snag one, but if you do, it's well worth it. It's also located near the Grand Canyon. The hotel has a diner and cafeteria, making it the ultimate choice for families and individuals that want maximum convenience at the end of their road trip to the area. If you want a room here, make sure you add booking it 6 months in advance to your trip itinerary.
Fun Facts About Yellowstone National Park
Yellowstone National Park is considered to be one of the most amazing experiences in the world. With hundreds of things to do and attractions of all kind, it is truly a bucket list destination for millions of people. However, while many people come to admire the beautiful sights that it has to offer, some will forget about the significance of this place and what it means to be in the presence of greatness at Yellowstone.
We've gathered some fun facts to not only teach you more about this amazing place, but also to be sure that you fully appreciate how unique, stunning, and staggering Yellowstone Park really is.
Yellowstone is enormous. It covers over 3,400 square miles. This means that the park is larger than the states of Rhode Island and Delaware--combined!
The park is full of hydrothermal features, which are defined as geysers, mud pots, and fumaroles. There are over 10,000 of these features residing within Yellowstone.
People come from all around the world to marvel at the geysers within the park. Yellowstone alone features 500 active geysers, many within driving distance of Salt Lake City and other popular destinations in the area.
Many people love to appreciate the land within the park, but few recognize that greatness also resides in the shoreline. Yellowstone Lake has over 140 miles of shoreline available for visitors to appreciate.
Yellowstone is not only home to various natural wonders, but also to stunning wildlife. It features the largest concentration of mammals out of the lower 48 states, featuring over 67 species.
The park is also home to various species of birds--285 to be exact. It is a great destination for bird-watchers and bird-lovers.
Yellowstone is one of the primary archaeological sites on the continent. There are more than 1800 such locations that geologists and scientists examine on a frequent basis. Hundreds of artifacts have been extracted from the park.
Waterfall lovers rejoice! There are 290 waterfalls in Yellowstone, which are spread out between 2.2 million acres within the park. One such example is the Lower Falls. The Lower Falls are a fabled destination.
Yellowstone is famous worldwide for its hiking options. There are over 1000 miles of hiking trails within the park, making it a great destination for those that love to hike and tackle terrain.
Fun Facts About Grand Teton National Parks
Like Yellowstone, Grand Teton has plenty of interesting facts and figures that really paint a picture as to how unique and stunning the area really is. Here are some of the most interesting facts and statistics about Grand Teton.
The Teton Range is one of the youngest mountain ranges in the Rockies, but some of the rocks found in Teton are among the oldest on the continent. This shows the diversity in age in Grand Teton and why there is so much that we can learn from the park. Just driving along Teton Park Road you can view how old the landscape is.
Calvin Coolidge was responsible for establishing the park in 1929. This accomplishment succeeded in the face of extreme opposition to the measure. The 96,000 acre park was approved on February 26, 1929. The designation of the area as a national park protected the Teton Range as well as the glacial lakes that were formed within, but it did not extend protection to Jackson Hole. Still, the area remains a beautiful place and continues to thrive.
In 1943, Franklin Delano Roosevelt established the Jackson Hole National Monument. The public was highly against this, even sparking a cattle-drive protest in which ranchers led 500 cattle across the land that had been designated. Conservation of the area was important to the administration, but the residents did not want to expand the protection.
John D. Rockefeller, Jr. played a very important role in the history of the park. He visited Wyoming in 1924 and immediately decided that he would purchase land in Jackson Hole. This land he would eventually decide to donate to the government. To purchase the property, he created a company called the Snake River Land Company. He purchased over 35,000 acres and held on to it for 15 years. He threatened to sell the land, which many believe is what caused President Roosevelt to establish the National Monument in the first place.
John Colter was America's first mountain man. In 1806, he started exploring the area and while historians are aware of where the trip started and where it ended, there is no knowledge as to what he actually explored and when. A strange stone found in Idaho provides some clues, if authentic. John Colter is an interesting figure in the history of Grand Teton and the stone is in the visitor center at Grand Teton. You can learn more about Colter in the visitor center at the park.
Many people don't know that there is a commercial airport on the grounds of the park. It is the only national park in the US to have this distinction. The Jackson Hole Airport is on the grounds of the park and was constructed in the 1930s. When the monument was added to the National Park, the airport was also added to it.
Grand Teton is one of the primary locations in the world for birds. There are birds of all types in Grand Teton. Some examples include the Trumpeter swan, the calliope hummingbird, and more. All you have to do is take a hike before you start to see the signs of all the various birds that can be observed in the park. Bird watchers from around the country covet the park for this reason. Yellowstone and Grand Teton national parks share this in common.
Wildlife is abundant in the park. There are many animals such as pronghorns. Pronghorns are some of the fastest land mammals in the world, reaching speeds of up to 70mph while running. Grand Teton is a great destination for those that wish to observe this wildlife.
You can view glaciers in the mountains of Grand Teton. There are 12 small glaciers in the peaks of the park. These glaciers have names, including Schoolroom, Triple, Falling Ice, and Skillet.