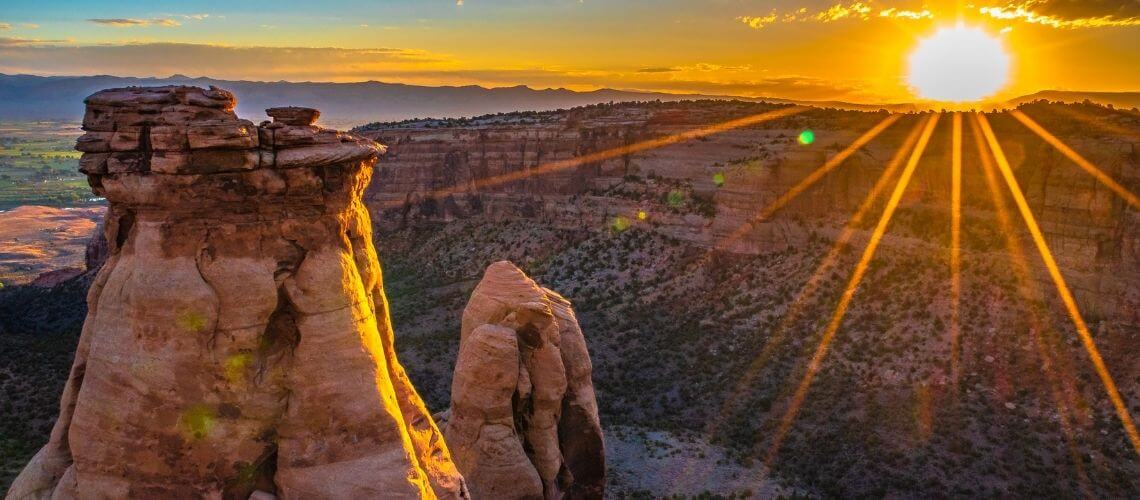 Are you planning a trip to Colorado in the summer season?
Do you have so many ideas but are overwhelmed and don't know how to maximize your time and stay?
It's not surprising as Colorado has so much to offer and places for tourists and travelers to visit. As it was part of the wild west and famous as a mining town, there are many historic buildings to visit like the Denver Museum of Nature Science and Denver Art Museum. The state also boasts of parks like Gunnison national park in Black Canyon, the majestic Grand Canyon, and Red Rocks amphitheater, famous for performing arts.
Colorado also offers so many unique and fun things to do like whitewater rafting, skiing, horseback riding, and music festivals. You can even try sand sledding and sandboarding thanks to its abundance of sand!
No matter what you plan to do, visiting museums, downtown Denver parks like City Park, and craft breweries or going on a whitewater rafting half-day tour, you may need help planning out your activities.
Advantage Grand Canyon knows how overwhelming this can be, and has compiled these ten tips to help you plan your group adventures in Colorado for the summer of 2022.
10 steps to planning your group adventures in Colorado for summer 2022
You no longer need to feel overwhelmed and wonder how to plan your trip as we have got you covered through these ten steps:
1. Best time to visit
The fact that you have decided to visit Colorado in the summer is an excellent decision. Summer and winter are the best times to visit to enjoy the state's hot but enjoyable summer weather and for ski enthusiasts to enjoy the ski slopes in winter.
Fall offers fun events like Aspen Film Festival.
And if you enjoy your beer, you will love the Denver Great American Beer Festival showcasing as many as 2,700 beer varieties from across the world.
Summer, however, is a favorite season because no matter where you are, you are assured of 300 days of clear and sunny days.
2. Where do you want to go?
Before you start preparing and planning for your trip, we recommend you first decide where and what you want to do while in Colorado.
Why?
Thanks to the state's climate diversity, Colorado has so many activities to offer.
As you can go snowboarding, rafting, camping, or on scenic drives to tourist attractions, plan based on what you want to do and where you want to go.
We however have one pro-tip to offer.
If you aren't going on a private tour, prior route mapping for the day saves time.
a) Exploring hiking trails: Colorado Springs
Colorado has miles of trails to satisfy your passion if you love hiking. They are not only easy to access, but you have a myriad of trails to choose from. There are flat trails through luscious and beautiful meadows, sheer and gaunt cliffs, swaying grasslands, walks to rushing and sparkling waterfalls, canyons, Colorado's mountains, and much more.
Popular trails worth checking out include:
Shrine Pass near Frisco for wildflowers

Sprague lake trail near Bear Lake

Garden of the Gods in Colorado springs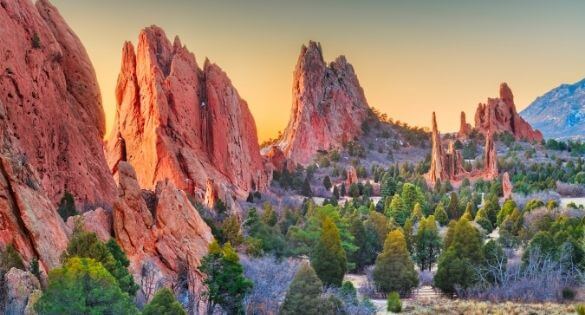 b) Camping for nature lovers
There never is any guarantee that you will be able to unplug yourself from digital life while on a camping trip. However, your summer program in Colorado will indeed give you the inspiration to do so!
There is no other way to get close to the state's abundant wilderness than by camping on one of its many campgrounds.
It doesn't matter if you spend one night or a few nights.
Spending nights under the stars in a tent or a fully equipped RV is transformational. Colorado offers campsites in more than 42 state parks and private campgrounds, ensuring there's always a tranquil spot waiting for you to unplug from the internet and revisit the simplicity of nature.
Some campsites worth visiting for different reasons are:
Golden Gate Canyon State Park for cabins

Roosevelt National Forest for wilderness backpacking without amenities

Great Sand Dunes National park for the epic views
c) Thrilling mountain biking and cycling
Bicycle riding is not just a form of exercise or a means of getting around the neighborhood but is also a way of life here. Colorado is the state that invented mountain biking so it's no surprise that the state boasts of a ton of bike trails and high-altitude road biking races.
Colorado also keeps the casual pedaler in mind, so there are also miles of flat and paved trails tailored to them. An exciting fact about Colorado is that most ski areas turn into mountain biking courses tailored for each skill level every spring. You have gondolas taking your bike up to the summit and for you to wind your way down the ski slopes.
Some popular bicycle trails in Colorado include:
Down ski slopes like Eagle's Loop on Vail Mountain

Paved routes for road bikes and cruisers like Clear Creek Trail

Bike parks like Corral Center Mountain Bike Park in Lory State Park
d) Water activities
Colorado also has thousands of acres of boat-worthy water for boaters to spend traveling through mountain basins and deep, blue-water oases. You can enjoy your favorite water activities here like fishing, or gliding across the many lakes and reservoirs.
While you have to bring your boat to most places, some marinas offer rentals. As usual, be careful, and practice boat safety.
And don't forget to visit the Bridal veil falls, the tallest free-falling waterfalls in Colorado at 365 feet.
Some water bodies in Colorado are:
Canoeing on Gross Reservoir near Eldarado Springs

Sailing in Lake Dillon

Waterskiing in Navajo State Park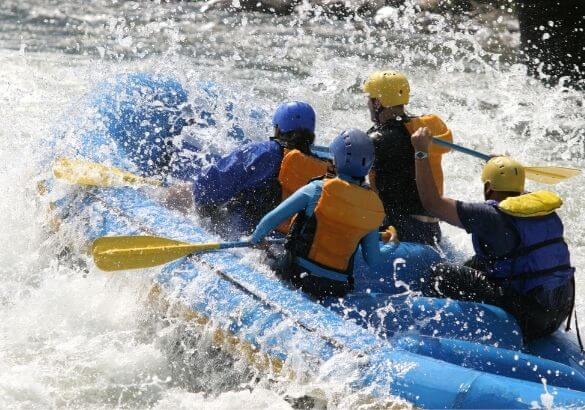 e) Golfing
Colorado's high altitude's thin and dry air flies golf balls farther and straighter. Many golfers head to the state for this reason and its year-round play. So if you love teeing up, you can plan your next golf vacation to Colorado.
Many companies offer packaged golf tours to sample various layouts across the state.
You can hone your golfing skills on:
f) Sunset horseback riding
Equestrian enthusiasts love Colorado for its dramatic scenic backdrop, endless trails, horseback ride history, and landscapes for any level of horsemanship, like beginner-guided trail rides.
We also have experienced wranglers pointing points of interest and wildlife to small groups and guided pack trips for seasoned riders. The guides accompany you from one campsite to the other, heading farther into the backcountry.
Dude ranches offer more for every rider, including great food, kids' programs, weeklong stays, and cattle gatherings.
g) Kayaking and whitewater rafting on the Colorado River

With Colorado marking the beginning of four major rivers Colorado, Arkansas, Platte, and the Rio Grande, whitewater lovers flock here every spring with their kayaks. The perfect season for rafting is from May to September, with May and June offering the swiftest whitewater experience.
However, if you want something more laid-back, August is the best month to visit. And if you're going to learn kayaking and rafting, the state offers ample placid lakes, paddle parks, mellow rivers, challenging rapids, and outfitters to learn and perfect your paddling.
Popular rafting spots in the state include:
Whitewater parks like Buena Vista Whitewater Park

Milder floats like Glenwood Canyon near Glenwood Springs

Adrenaline producing adventures like Gunnison George near Gunnison
If you want to get an adrenaline rush rafting in Colorado you can try floating on the :
Royal Gorge to experience Class V rapids

Arkansas river to the Royal Gorge Bridge

Brown's Canyon along the Colorado River
Whatever you plan, we remind you that the water levels are highest in spring and late summer because of the snow melting into the mountains and filling the rivers.
h) Exploring caves
Colorado has quite a few natural caves for you to explore. For example, if you want to cool off after your summer activities, head underground to two of the nation's most famous natural caves.
Famous natural caves in Colorado include:
Caves of the Winds in Manitou Springs with more than 2 miles of twisting and turning limestone passageways to explore with lantern light

Glenwood Caverns in northwestern Colorado Glenwood Springs, which you reach via a gondola ride. You will enjoy exploring its massive, wide-open rooms and crawling and squeezing into undeveloped caverns.
There are also some undeveloped caves for experienced cavers like: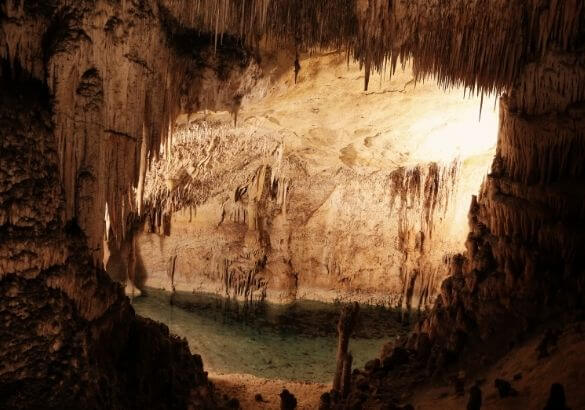 However, if you plan on visiting these caves, we remind you that they can get dangerous, so carry along the proper equipment for a safe trip and experience.
i) Enjoy the wildlife of Rocky Mountain National Park
If lucky, you will get to see a variety of Colorado wildlife in Rocky Mountain National Park like the majestic elk, bighorn sheep, moose, mountain goats, sheep, and more. So keep a camera handy all the time to capture photos.
Once done, just a short drive leads you to the quaint, historic town of Grand Lake, offering a host of family activities.
3. Know the lay of the land
Colorado is divided into six physiological provinces based on landscape changes, each boasting of its unique, natural landmark.
Coloradoans divide the state into four general regions from east to west:
Eastern Plains comprised of towns in plains farthest east from Rocky mountains like Limon

The Front Range with cities along the plains near mountains, like Denver and Colorado Springs, and towns like Fairplay and Idaho Springs.

The Rocky Mountains in central Colorado, including mountain towns like Georgetown and Aspen

Western Slope with cities on the west edge of the Rockies like Grand Junction and Montrose, and any town west of the continental divide like Summit County and Winter Park
4. Understand the topography of Colorado
Other ways of dividing and sectioning off Colorado are its topography and landmarks.
Some of the major Colorado landmarks include:
Continental Divide separates the Rocky Mountains and determines if the major rivers empty into the Pacific Ocean or Atlantic. A stop at the Trail Ridge Road is the best way to see the Continental Divide cutting through Colorado.

The hundreds of natural lakes and manmade dammed reservoirs of Colorado

The major rivers connected to thousands of creeks and river tributaries

Parks, valleys, and basins with lots of lower land in between mountain ranges like Middle Park and Fraser Valley.
Despite its arctic level winters, Colorado can also get very hot in the summer, with temperatures reaching more than 100 degrees F. While you may not sweat much because of its dry desert heat, the heat is unbearable without AC.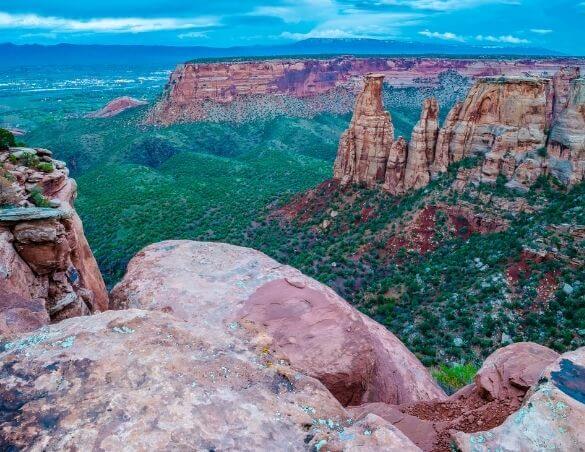 So it's not surprising to know that most Front Range and lower elevation town residents turn to the high altitudes of the Rocky Mountains to escape the heat. The temperatures seldom exceed 80 degrees here and drop quickly as the sunsets. It's common to experience 40-degree temperatures at high elevations, just perfect for exploring Rockie's hiking trails.
5. Plan your travel arrangements
We recommend going around the state by car as it offers you the flexibility to explore the many scenic spots and routes the state offers. Besides, you can easily stash and transport your camping gear, fishing pole, and any other gear if you have an adventure plan.
However, some elevated places like Denver can be a problem for some travelers. As you will climb to even higher altitudes while heading to the mountains, we recommend staying hydrated and taking it easy to avoid possible altitude sickness.
6. Make advance arrangements
One thing is sure and important. No matter where you plan to go, you need to make proper, advance arrangements for a successful trip. This means you need to decide and book your vacation dates well in advance.
You can then decide if you will be taking your equipment like fishing, camping, biking, or rafting gear or if you will be renting it.
Don't forget to confirm your check-in time.
You don't want to waste or rather pay an extra day for your stay there because you didn't check and reach on time!
If you plan to go skiing or snowboarding, it's better and more convenient to buy lift tickets beforehand. And if you will be driving around, do use your GPS for directions and make sure you take care of your car maintenance, registration, and insurance.
About rafting, you can book your preferred rafting trip with us. However, bookings aren't easy to get as most people make bookings months or even years ahead! However, it's easier to get a booking if you travel single or as a group of 2-3 people and if you are flexible about dates.
7. Pack clothes for any season
With Colorado's scorching heat and 300 days of sunshine a year, we recommend you pack light. This means you need to pack sunscreen, goggles, clothes that dry quickly, appropriate footwear based on what you plan to do, and a hat for sun protection. An SPF 30 sunscreen and sunglasses will help the most by providing for a life-changing difference indeed.
When it comes to clothes, place comfort over fashion while packing. Pack bearing the varying elevations and weather conditions in mind, making packing multipurpose outfits worthwhile.
It's also worth layering up and packing clothes for all four seasons as you never know when you may experience sudden temperature shifts. Of course, it's not that much of a hassle if you are visiting Colorado in summer as you just have to pack light and breathable clothing that dries quickly.
However, in the case of winter trips, you need to pack layers of breathable, warm clothing, long-sleeved T-shirts, sweatshirts, waterproof pants, coats, and long underwear. You can save on valuable suitcase space by packing universal clothing to wear in any season.
Examples are pants and swim trunks that also work as shorts, and walking shoes you can wear to a party or dinner. And of course, you also need some comfortable footwear to wear for any outdoor activities, be it biking, rafting, hiking, camping, or just wandering around.
8. Additional must-haves
We remind you to pack and be ready for Colorado's dry climate. So if you aren't used to this type of weather, you will also need to pack a moisturizer, lip balm, and water bottle.
Another problem we've noticed with many tourists who come to Colorado is altitude sickness. So it's better to be prepared for it and its symptoms like nausea, headache, reduced appetite, and sleep disturbances.
Don't forget other traveling must-haves like a camera, painkillers, earphones, a bug spray, and an MP3 to make your trip as memorable, and hassle-free as possible.
9. Set aside time to visit spots like Mesa Verde National Park

While discovering the grandeur of Colorado, make sure you set aside some extra days for unexpected stops. You never know when you may be reminded, or want to make a surprise stop someplace.
Mesa Verde National Park
For example, many rafters and horseback riding enthusiasts forget to visit the Mesa Verde National Park. This is a park the United Nations designated as a cultural World Heritage Site in 1978 and is worth visiting at least once in your lifetime.
You can visit Petroglyph Point Trail for its prehistoric rock carvings, sleep under the stars in Morefield Campground, North America's largest cliff dwelling, Cliff Palace, or take the 700 years tour to learn about the history of Ancestral Puebloans.
Glenwood Springs
Complete your experience with a stay at Glenwood Hot Springs Resort to experience the famous geothermal natural hot springs, in Glenwood Springs. The resort is one of the few mountain resorts offering a family-friendly atmosphere and beautiful mountain views.
You can also visit the historic Pikes Peak cog railway to enjoy 360-views from the far eastern plains to the snow-capped western Rocky Mountains. A trip to the San Juan mountains is also well worth it to go hiking, ice fishing, swimming, and camping.
10. Make advance bookings
Last but not least, it is always better to make reservations as quickly as possible. We believe it's better to book early and know you have your seats and bookings made, instead of keeping things for the last minute and ending up disappointed!
Follow our ten tips, and we at Advantage Grand Canyon will work to make your summer vacation in Colorado, nicknamed the centennial state, the best and most memorable summer vacation to cherish for a long time to come!
We are proud of being the #1 destination to search all top 15 outfitters in one place and book Grand Canyon rafting trips.