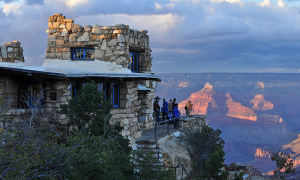 The Grand Canyon is probably one of the most awe-inspiring displays of beautiful American wilderness remaining and justifiably, it brings in massive crowds every single year. Regardless of the time of year it is, the problem that most visitors have is the types of Grand Canyon lodging options available. There is definitely no single solution to this problem since the Grand Canyon, unlike other vacation destinations and national parks has several equally tempting options that provide their own unique experiences. In the outlying areas that surround the Grand Canyon, you will find chain hotels, motels, campgrounds, and even resorts. However, if you like staying within the confines of the park, you still have the option of choosing between modern lodges, campgrounds, and rustic cabins for a more authentic and quieter experience. Regardless of what you are after, you will definitely find something that you will love, but understand that every area does specialize in a different experience. The following are some Grand Canyon lodging options based on location:
Lodging in the South Rim
The South Rim is normally open all-year round. It is where most visitors look for hotels and motels in the Grand Canyon. Even though the other rims definitely have their own unique advantages, the South Rim has enough options for guest services to make it one of the most convenient and easiest places to stay while visiting the Grand Canyon. Some of the hotels in the South Rim that you ought to check out include Bright Angel Lodge, Phantom ranch, El Tovar Hotel, Kachina Lodge, Grand Canyon Squire Inn, Thunderbird Lodge, The Grand Hotel, Red Feather Lodge, Grand Canyon Plaza Resort, and Yavapai Lodge.
North Rim Lodging Options
If you plan to stay the night in the North Rim of the Grand Canyon, it is a good idea to book accommodation at the Grand Canyon Lodge and cabins. However, due to the huge popularity of the destination, you may have to plan about one year ahead to stay there. Some of the great hotels and lodgings in the North Rim that you ought to check out include Grand Canyon Lodge as stated, Kaibab Camper Village, and Lees Ferry Lodge. Williams And Flagstaff Due to the high capacity rates close to the Grand Canyon during the high season, many opt to seek out Grand Canyon lodging alternatives in the nearby towns of Flagstaff or Williams. Both towns offer a convenient enough home base. Williams is the closer town even though it is quite a drive to the South Rim. On the other hand, Flagstaff has more amenities, which means that both towns are good options. Some of the hotels and lodges to check out in the town of Williams include The Red Garter Inn, El Rancho Motel, Grand Canyon Inn, Super 8 Williams, Days Inn, and Dumplin Patch Hotel. For Flagstaff, check out Comfort Inn Flagstaff, Fairfield Inn Flagstaff, Holiday Inn Express Flagstaff, Little America Flagstaff, and Hilton Garden Inn Flagstaff.