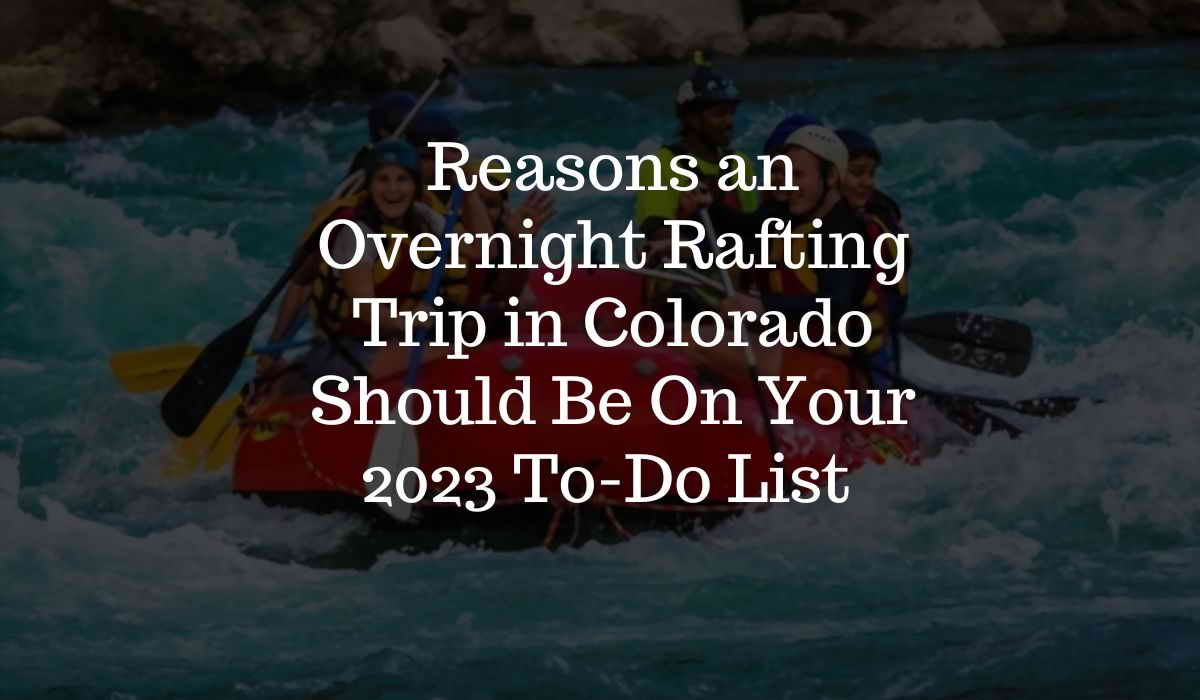 Whether you need the time to reconnect with nature, take a break from work, or simply bond with loved ones, a rafting trip in Colorado is the perfect outdoor adventure to add to your 2023 bucket list. Not only will this activity give you the chance to experience the great outdoors and clear your mind, but it will also offer a unique experience filled with thrill and excitement
With that said, here are the top 10 reasons to add an overnight river rafting trip in Colorado to your 2023 to-do list!
Take a Break From Technology and Go Whitewater Rafting
How many of us spend the majority of our days staring at screens, constantly connected to work emails and social media? Technology has slowly taken over our lives, and sometimes, we don't realize the importance of disconnecting until it's too late.
River rafting is a unique opportunity to unplug from technology and reconnect with nature. Enjoy the beautiful scenery without your phone constantly buzzing, and experience a much-needed break from the constant overwhelming presence of technology in our lives.
When you're out on the river, the remote wilderness will surround you and your group, allowing for a sense of peace and tranquility. It's the perfect opportunity to teach yourself the importance of disconnecting and being present in the moment
Strengthen the Bonds You Have With Loved Ones
Overnight trips have always been a great way to strengthen the bonds we have with our loved ones. Whether it be camping in the woods or staying at a cozy cabin, being away from the hustle and bustle of everyday life enables us to focus on just each other and create lasting memories together.
When on a rafting trip, it's important for your group to work together and communicate effectively. This will allow you to bond with each other in a different way, as you navigate the river rapids and make decisions as a team.
Not only that, but the adrenaline rush of tackling some of the rougher river rapids can bring about feelings of camaraderie and trust among your group, making for a truly memorable experience.
Affordable Way to Spend a Vacation
Who said you had to break the bank to have a great vacation? Overnight rafting trips tend to be more affordable compared to luxury vacations or extravagant getaways. When compared to most trips, like going to the Bahamas or perhaps a week-long cruise, a rafting trip may not seem as glamorous. However, the thrill and adventure make it worth every penny.
On top of that, our company offers package deals that include all necessary equipment, gear, and even accommodations for a reduced price. This allows you to save money and have everything taken care of. We'll also provide all the necessary training and safety measures, so you can sit back and enjoy your trip without worry.
The Colorado River has Views Like No Other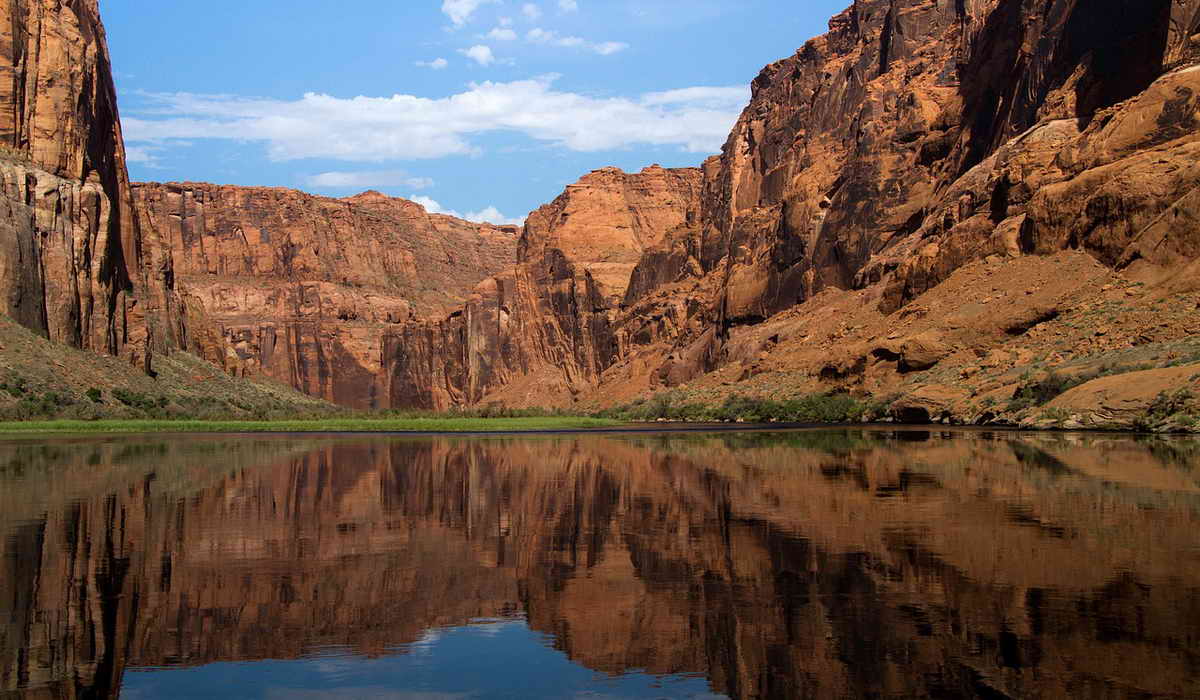 Another reason why you should totally head to Colorado for your river rafting adventure is because of the stunning views and scenery. Our multi-day rafting trips allow you to explore and admire the beauty of nature, with diverse landscapes ranging from deep canyons to rolling meadows.
Getting off the beaten path and just indulging in the scenic river views is a refreshing change from being trapped in an office building all day. You may take pictures that you can look back on fondly, or simply soak in the majestic views and let them imprint on your memory forever, whatever you decide, you won't be disappointed
Learn New Skills
Whitewater river rafting isn't just about the fun and excitement, but also about teaching yourself new skills. Many skills can be learned on this kind of escapade, such as:
Learning to focus during challenging situations

Communicating and functioning as a team

Improving physical stamina

Developing problem-solving skills
All of these skills can be applied not only to future river trips but also to everyday life. With these new skills and experiences under your belt, you'll head back to reality feeling more confident and capable.
Explore Untouched Landscape
Colorado is quite popular for its picturesque mountain ranges, but have you ever explored its stunning rivers? Whitewater rafting allows you to venture into parts of the state that are untouched, giving you a unique viewpoint.
During a river trip, you'll have the opportunity to explore hidden gems, such as secluded waterfalls and stunning rock formations, that most tourists never have the chance to see. Deer Creek falls, for example, is one of the most beautiful waterfalls along Colorado that can only be accessed by raft.
Chance to See Wildlife in Their Natural Habitat
One of the best aspects of rafting is that it allows you to experience wildlife up close and personal, in their natural habitats. When exploring rivers such as the Colorado river, you may have the chance to see animals like bighorn sheep, bald eagles, and even bears.
You'll get to witness these incredible creatures in their element, which enables a less intrusive form of viewing wildlife. Instead of stopping at designated spots on a safari that encages animals, you'll have the opportunity to see them freely roaming about their habitat.
If you're a nature lover, this is definitely an experience you won't want to miss out on.
Camping Along the River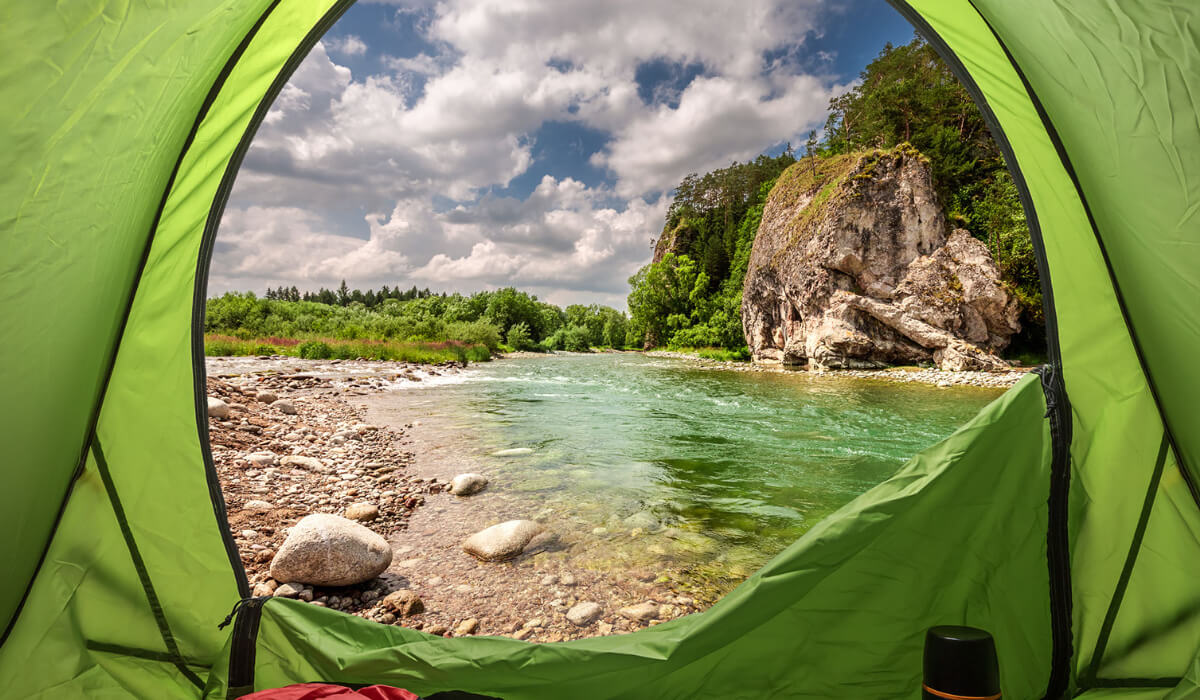 One thing that makes overnight whitewater rafting trips great is that you get to camp along the river if you choose to. How amazing does it sound to go to sleep under the stars, with the soothing sound of river rapids as your lullaby?
There are many areas in the Arkansas river where you can set up camp, and we can provide all the necessary camping gear and equipment if needed. Plus, our guides will also teach you important camping skills, such as setting up a tent and even building a fire.
Get Out of Your Comfort Zone
Have you ever wanted to try something new and push yourself out of your comfort zone? A raft trip is a perfect opportunity for that. It challenges you physically, mentally, and even emotionally as you overcome obstacles and tackle rapids that test your limits.
Hot showers, cozy beds, and all the comforts of modern life are traded in for roughing it in nature. This allows for personal growth and a sense of self-fulfillment as you conquer your fears and come out stronger.
Meet New People
During the summer months, especially in mid-June to late August, we often offer group river trips where you can meet new, like-minded individuals. This is a great opportunity for both locals and tourists to socialize and make new friends.
Many people are attracted to this sport because of the thrill that comes along with it, so it's easy to bond with others over the shared interest. Our guides will also be there to facilitate introductions and group bonding activities.
The Best Outfitter For Your Colorado Rafting Trip
An outfitter is someone who'll plan, guide, and provide all the necessary equipment for your trip. When choosing an outfitter for echo canyon river expeditions, it's important to go with one that has a good reputation and plenty of experience.
Our company, Adventure Grand Canyon, has been leading rafting trips down Colorado and Arizona based rivers for years. Our guides are all highly trained and certified, with extensive knowledge of the area. We ensure our rates are competitive and provide top-notch equipment for a safe and enjoyable trip. Whether it's inflatable kayaks or a traditional raft, we have options for any level of the rafter.
The Cost of an Overnight Rafting Trip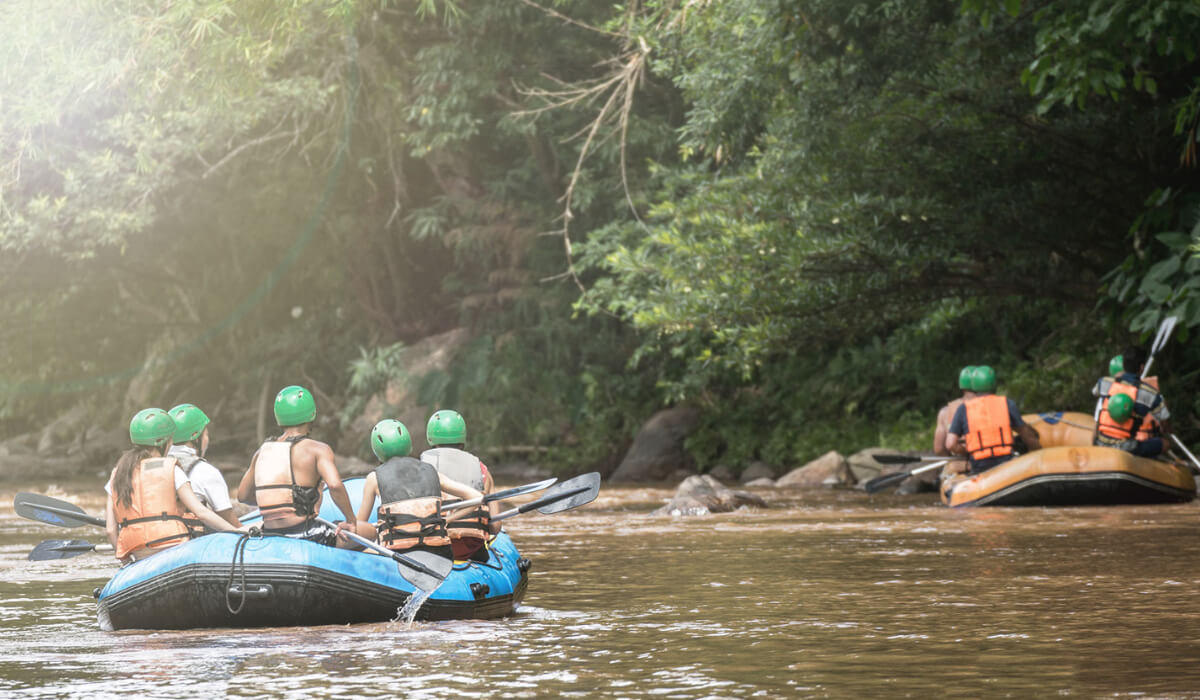 Interestingly, an overnight trip is quite affordable and prices may range from $150 to $300 a day. The rafting season typically runs from April to September, with the peak season being during the summer months. Expect to pay more for raft trips during peak season and during holidays.
While the rates of a raft trip vary depending on the outfitter and are frequently tied to trip quality, even the top outfitters provide affordable rates. Since most overnight trip options include raft expenses, meals, and lodging, the only thing left to spend money on is transportation to and from the target location and any additional activities.
Where to Raft in Colorado?
Colorado is home to many famous rivers for white water rafting, including the Arkansas river, Colorado river, Green river, and Yampa river. These rivers offer numerous rapids ranging from beginner to expert level, so there's something for everyone to enjoy.
Buena Vista, a small town nestled in the Rocky Mountains, is a hotspot for whitewater rafting. The Arkansas river that flows through Buena Vista town offers class III rapids to class IV rapids, with stunning views of the mountains along the way. Glenwood springs and cañon City is also a must to visit.
The Bighorn sheep canyon is another popular stretch to check out. Extending east of Salida going through Parkdale, it's a great fishing spot for trout.
What Is the Best Time to Go White Water Rafting in Colorado?
The best time to go on raft trips in Colorado is generally May through August. These months typically have warmer weather and higher water levels, allowing for the best raft trip conditions.
Always check with a reputable company for the most up-to-date water levels and weather forecasts before heading out on trips. This is especially important if you plan to go for longer trips. One night of heavy rain can significantly change the rapids, so keep an eye on the forecast and choose a day with fair weather for trips.
Contact Us Today
Whether you go for a half-day or an overnight trip, whitewater rafting in Colorado is guaranteed to be a one-of-a-kind adventure that you'll never forget. Give us a call today at Advantage Grand Canyon and don't miss the chance to go on the best overnight rafting trip!