At it's best, white water rafting can be an exhilarating, almost spiritual experience. Any whitewater rafter knows that the key to achieving this level of joy in the sport is finding the perfect place to go white water rafting. We're here to provide you with insiders' knowledge of the best river rafting in California. With expert knowledge of the area and the best rafting trips in California, we can help ensure that your trip to California for river rafting is not wasted. From Pigeon Point Run to the Fork of the American and the South Fork, we'll give you the inside knowledge of all the best experiences that whitewater rafting in Central California has to offer.
White Water Rafting Experience Levels
If you don't have that much experience with whitewater rafting and the related activities, you might be worried that you simply don't have enough experience to participate in whitewater rafting in California. However, your mind should put at ease. There are classes and tours even for those that have never rafted in the water. In our guide of the best whitewater rafting spots in California, we are going to ensure that whether you are Class III, IV, or just a beginner, you'll be able to find a spot to work for you and make your rafting rip memorable. California is one of the most expansive whitewater rafting spots in the United States and it features a rafting adventure for any skill level.
Counting Down the Best Options For a California River Rafting Trip
If you're looking for the best rapids to suit your needs for your California rafting trip and other outdoor activities, then you are in the right place. California is a wild, scenic place with plenty to do for people looking for quick trips to multi day family trips to those looking to simply get the the adrenaline pumping on a whitewater rafting trip. Here are some of the best day trips, family trips, and national wild scenic whitewater excursions available!
Trinity River
The great thing about Trinity River whitewater rafting is that it has something for everyone looking for a rafting trip in Northern California. It suits everyone from Class II-Class V. In the lower part of the Trinity River, you'll find very calm rapids that are great for those looking for a family adventure or some great scenery to take in. It's one of the most beginner-friendly rafting places that people love to visit. It's so expansive, that it may take you 3 days to experience the full range of water levels and trips that the rapids have to offer.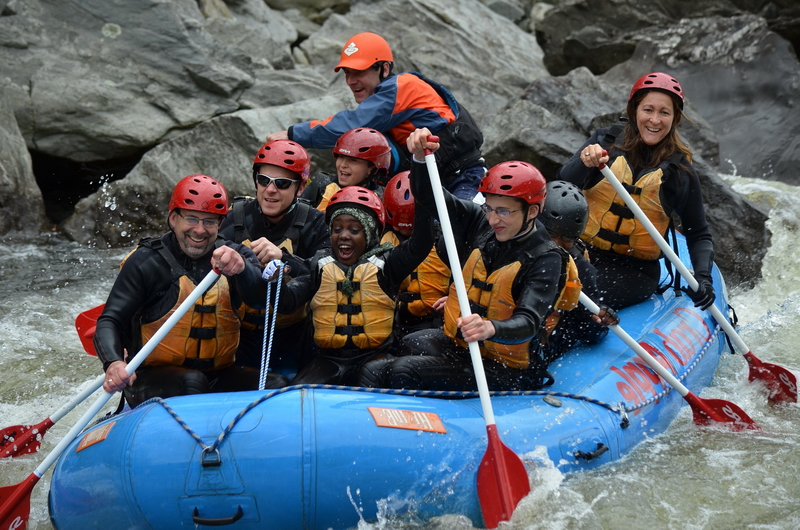 Cal Salmon River
Are you a Class IV or Class V rafter that is looking for one of the most intense trips that Northern California has to offer? Look no further than a Cal Salmon rafting trip. These rapids are rather challenging and you'll find the river very enjoyable if you enjoy a good adrenaline rush! Rafters that are looking for new rivers to test their skill will be overjoyed by the opportunity that the Cal Salmon rivers provide. This is one of the most intriguing whitewater trips that California has to offer. This section of the Cal Salmon River is recommended for those looking for a 1-day whitewater trip.
Lower Klamath River
Are you looking to avoid the intense rapids and instead opt for a place for Class II and Class III rafters? The Klamath River is a 3-day trip and features everything you could want out of a California river rafting trip! Sometimes, you just want to take it slow and enjoy the time with your family. If this describes you, then the Lower Klamath River is a great choice for you and you'll enjoy this journey with little or no difficulty whatsoever. This site is located in Happy Camp, CA and is quite easy to reach for anyone that wants a few days of fun with their family in the beautiful and scenic California wilderness and rivers.
North Fork of the American River
The North Fork of the American River is widely regarded by blog posts, experts, and rafters as one of the most scenic and beautiful places to raft in the country. It is great for Class IV rafters and provides a level of adventure and scenery that few other locations in the world are able to offer. These rapids are a bit more challenging than what would be suitable for a starter and they are classified as Class IV rapids. This section of the water is the best of what American River rafting has to offer. It is a must-have for any rafter that is looking to cross a new place off their bucket list. Rafters can expect to spend about 1 day doing the North Fork.
Middle Fork of the American River
if you are looking for some beautiful rapids near San Francisco, then the Middle Fork of American River canyon is the right choice for you. Many people come to Middle Fork American River to go on one of the most coveted rafting trips in California--Tunnel Chute. This 1-day excursion is a great tour of a chute that was formed with 1800s miners blasted a tunnel through the side of a cliff in the canyon in order to divert water. This created a great drop that many rafters love to explore. Those that are on the search for a challenge are in luck--this whitewater trip is rated as Class IV.
South Fork of the American River
South Fork, American River is generally regarded as a trip that has some room for everyone to get involved. This Class II-Class III rapids has some whitewater, but also plenty of calm points that beginners will enjoy. This is one of the most convenient rafting trips to go on, and you can do it all in 1-2 days. It is located near Sacramento for maximum convenience and ease of access.
Tuolumne River
This Class III, IV rafting opportunity originates from the highlands of Yosemite National Park, meaning that this journey will be able to provide you with some of the most stunning scenery available to you. This is not regarded as the most difficult whitewater available, but it is a decent challenge for intermediate-level rafters and will provide you with all the beautiful scenery that you could ever want on the way. You can choose your destiny at the Tuolumne River. 1, 2, or 3 days will be just fine as there is plenty to do and see.
Merced River
The Merced River is great for rafters that consider themselves to be of intermediate-level skill. These waters wander through Yosemite, providing stunning views every step of the way. It's seen as a very scenic option for those that prefer to take in what is around them instead of constantly trying to keep up with the waters. This is a brief, 1-day journey that almost anyone can do while they are in the area. It's a convenient and coveted option for rafters of a variety of skill levels.
Lower Kern River
If you are staying in Los Angeles for a few days and are looking for something convenient with just enough to get your blood pumping a bit, then, the Lower Kern River is a great option. Located just outside of Los Angeles, the Lower Kern has options for families as well as experienced rafters. The journey begins at the Souther Sierra and eventually comes to Lake Isabella. You can either choose to simply try out the Jungle Run, which is 8 miles of beginner-friendly waters, or take 2 days to also add the Miracle Run, a challenging part of the river, for a bit more excitement.
Kaweah River
This challenging excursion is located very near Sequoia National Park, one of the natural beauties of the world. If you are looking for steep, challenging waters, then Kaweah River is the right place for you. It is widely regarded as one of the best trips available in California. Not only does it have steep waters, but it also features plenty of obstacles to keep things interesting. It's perfect for anyone looking to challenge themselves. The best time to go is during April through June, when most of the snow is melting, increasing water flow and difficulty.
Safety During Rafting Trips During COVID 19
If you are going to go rafting in the next few months, one of the safety measures that you must take is to make sure that you are being safe during the coronavirus pandemic. Luckily, rafting in the wilderness of California is one of the safest activities that you can do. With plenty of room to breathe and fresh air always accessible, rafters won't have to try to hard to be safe while on their rafting journey. Make sure that you adhere to all guidelines set forth by your guides and any companies that you work with along the way.