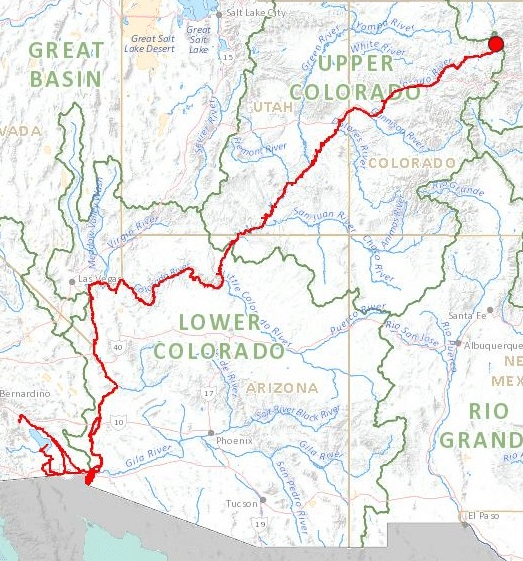 The Colorado River starts from the Rocky Mountain?s wilderness. It winds down across Colorado and enters spectacular river destinations that are great for rafting trips. The famous points include Southwest Sampler, Westwater Canyon, and Cataract Canyon. We are offer trips from all the top commercial outfitters that offer trips on the Colorado River through the mighty Grand Canyon.
What to expect while on the Colorado River?
River vacations become more thrilling when you go rafting and are challenged by the strong water current. On the Colorado River, you will definitely have an exhilarating rafting trip experience! Expect to see endless beauty and scenic wonders that make the whole experience truly unforgettable. In particular, the Colorado River is known all over the world for its whitewater rapids that are undeniably legendary. It also has some of North America?s largest whitewater that are located within the canyons of Arizona and Utah. The canyons themselves all make for a stunning landscape that continuously attract people to try rafting in the area. The Colorado River passes by five national parks and six state parks, conservation and recreation areas, and national monuments. There is no other river in the world that can offer you these. However, rafting all the way from the first point to the last point of the Colorado River can only be possible if you have plenty of time. Because most of us are working for a living, you can only set aside several days for a single trip, tour or expedition. With this, you can complete rafting the whole river through several rafting trips. For each trip, you can allocate four to seven days for example. The trip at Westwater Canyon can be completed in four days. The same is true with other trips such as the 4 Day Cataract Canyon trip and 4 Day Moab, Utah Sampler trip.
What are the clothing and gear items you need to bring?
The Colorado River is without a doubt a huge area where you are exposed to different elements of the environment. You will get exposed to the sun?s rays, microorganisms, and other elements that may cause you minor harm. With these, you have to ensure that you wear proper clothing. Wear a swimsuit as the first layer. For men, a quick drying pair of shorts can also function as a swimsuit. The other clothing items you need are wool or polypropylene socks, water sports sandals, hiking boots, long sleeve shirts that can also provide you added sun protection, wool or fleece jacket, visor or baseball cap, and capilene, smart wool, or polypropylene long underwear. For the gear items, make sure you bring a bandana, lip balm, sunscreen, wet wipes, moisturizer, large zip lock bags, toiletries and small towels, insect repellant, sunglasses with strap, headlamp or flashlight, water bottle with strap, small camp pillow, and medications. You may also choose to bring a journal, waterproof camera, and fishing equipment. Depending on the activities you want to enjoy on the Colorado River, the list of clothing and gear items can be shorter or longer.
---