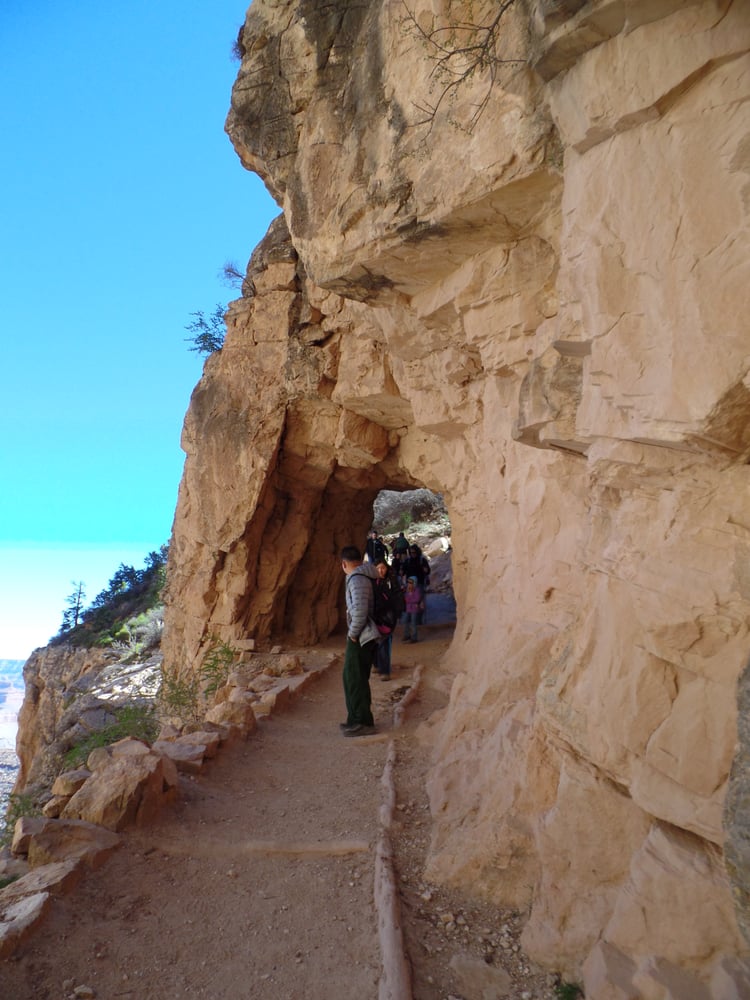 The Bright Angel Trail is known as one of the most beautiful, well kept trail in the great American west. This trail is managed by the National Park and is a required hike for some Grand Canyon raft trips which either begin or end at river mile 88. The Bright Angel Trail distance hiked from the top of the south rim in Grand Canyon Village to the bottom of the canyon where you can actually dip your feet in the water is 7.5 miles.
Along the way there are multiple rest stops including 1.5 mile (which is 1.6 miles down the trail), 3 mile (which is 3.1 miles down) and Indian Gardens (4.9 miles down).When you reach the bottom and see the river, this is Pipe Creek beach where most Commercial and Private raft trips beach their rafts for easy access to the trail. There is another popular stop for rafters which is up river or close to a 1.5 mile hike to Boat Beach which is also known as Bright Angel Campground. This last 1.5 miles is the same route that hiker's take to get to historic Phantom Ranch, the only lodging under the rim in the Grand Canyon National Park.Overall, the distance from Pipe Creek Beach to the top of the south rim is 7.5 miles. From Boat Beach to the top is close to 9.5 miles.
It is recommended to avoid hiking in the early to late afternoon during the summertime as the temperatures can reach and exceed 115 degrees. This hike should be attempted only by those who are physically fit and hiking up and down during the same day or close to 20 miles is not recommended.